A Closer Look at Electric Radiant Cove Heaters
October 9, 2019
Winter weather is just around the corner, and now's a great time to start thinking ahead to ensure your home is ready to keep you warm and comfortable this holiday season. You've scheduled your annual heating system maintenance and brought out the extra blankets, and hopefully good company, holiday cheer, and warm food are waiting in anticipation. As you start spending more time indoors, our team at Save Home Heat Company has another suggestion you may want to keep in mind if things start getting a little chilly in certain areas of your home: electric radiant cove heaters.
Grouped with a broad range of infrared – or infrared radiant – heating products, electric radiant cove heaters are the perfect addition to basement rooms, home offices, dens, and more, even additions! They're great for virtually any finished area in your home that could use a heat boost while the rest of the house is warm and cozy. If AC isn't needed in these areas during the summer, then radiant cove heaters are a great product to lean more about. (If AC is also needed, speak with us about ductless heat pumps!)
Safe, Reliable Radiant Heat
There are a wide variety of radiant heaters available for both residential and commercial applications, with options including gas- or electric-fueled equipment, some with basic thermostat controls and others with programmable and even wireless, WiFi capabilities. Electric radiant cove heaters are an excellent choice for the home because of their safe designs, effective performance, and modern, unobtrusive presence in living spaces.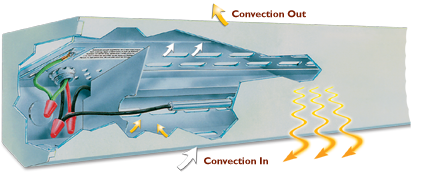 Radiant heat feels much like being in the warm sunlight, sans the bright light aspect. Radiant heat wavelengths directly warm people and objects that it 'shines' on, as opposed to the unit heating air and circulating it around the room. So the air temperature might still be cool, but the heater starts to warm you up quickly, along with the rest of the room.
With electric radiant cove heaters, there are no exposed heating elements or power cords, no hot surfaces that can burn you – and no floorspace is sacrificed! Performance is efficient and effective. With the focus of our industry starting to shift toward electric-fueled products, due to regional and national initiatives aimed at shifting electrical generation to renewable sources (solar and wind), electric radiant cove heaters also make sense from a 'green' standpoint, as well.
Why Electric Radiant Cove Heaters?

Effective and Reliable Warmth
Unobtrusive, Quiet Heating for Almost Any Room in the Home
Easy to Operate
Safe Design And Equipment Locations
Allows You To Create Separate Heating Zones Within Your Home
Helps Reduce Reliance on Fossil Fuels
Convenient Comfort
Electric radiant cove heaters are the perfect addition to a den, dining area, home office, bedroom, or almost any room in your home. No venting or gas piping is required, and installation and electrical work is relatively straightforward and clean. Even better, these modern-style units offer you effective supplemental heating without sacrificing any floorspace in your home. You won't have to move around furniture to make room for the new heaters, since they are mounted up out of the way, high on the wall near the ceiling; and they typically blend in well with home decor. A perfect comfort upgrade to any area of your home, one that'll have you quickly noticing the difference in comfort when our Denver-Boulder winter arrives.
The Home Comfort Specialists

To learn more about electric radiant cove heaters, or to schedule a free installation quote, in the Denver-Boulder area, contact our friendly team at Save Home Heat Company. As always, you can count on us to do our best to answer all your questions in a professional, low-pressure manner, and help you make a home comfort decision that makes the most sense for you, your family, and your home.
I'd like a free quote to install an electric radiant cove
heater in my home!