Central & Mini-Split Heat Pumps
Heat pumps can be an effective and efficient source of whole-house or spot heating, and they provide air conditioning, as well. They are available in both central and ductless mini-split models.
What Is A Heat Pump?
An air-source heat pump is basically an air conditioner that works in reverse during the winter, generating heat for the home – while still functioning as an air conditioner during the summertime. Thus, heat pumps provide year-round comfort. Powered by electricity, with zero reliance on fossil fuels such as gas or propane in the home, the growth in popularity of heat pumps is due in part to the growing trend toward cleaner, 'greener' technology for home heating, meeting a demand for products that can help reduce your carbon footprint.
In centrally ducted heating systems, a central heat pump typically is not sufficient as a primary heat source, and they are used in tandem with a gas forced air furnace in what is known as a 'dual-fuel heating system,' an arrangement that presents a number of benefits. If you plan to install or replace a central air conditioner, a good argument can be made to go with a central heat pump instead of a conventional central AC system.
Ductless mini-split heat pumps – also known as mini-split heat pumps – operate independently of a central system, providing personalized heating and cooling for individual rooms or areas. Mini-split heat pumps are very popular with our customers who want to heat and cool specific rooms that aren't served effectively by their central system. Ductless mini-split heat pumps (and ductless air conditioners for cooling-only) are highly effective in resolving these issues, and our customers are always amazed with their performance. Mini-split heat pumps continue to grow as a product-of-choice!
Brands We Carry


Ductless Mini-Split Heat Pumps in the Boulder/Denver Metro Area
Stylish, quiet, and providing effective room or area heating and cooling, ductless heat pumps rate very high in customer satisfaction, as well as operating efficiency during both summer and winter. During the heating season, some models provide meaningful heat even when outdoor temperatures drop to 10 degrees below zero. When air conditioning is also desired, ductless heat pumps are a simple and effective solution to both heat and cool individual rooms in your home. Ductless systems can also be setup to provide year-round comfort for an entire home in a 'zoned,' whole-house configuration.
Each indoor unit is controlled by a hand-held, remote control thermostat which can also be wall-mounted, if you prefer.  WiFi connectivity is also available for these great products.
Mini-Split Heat Pump Benefits:
Very responsive, effective, and reliable
Remarkably quiet indoors & outside
Indoor blower units are sleek & unobtrusive, and don't require a huge hole in the wall or a window
Outdoor condenser is much smaller & quieter than a central system unit
Highly efficient with low operating costs – efficiencies up to 13.0 HSPF (heating) and 30+ SEER (AC)
INVERTER-driven compressor technology uses only the energy needed to do the job
Variable-capacity and variable-speed operation available on certain models
Eliminates performance issues associated with older ducting systems that have air leaks
The ability to create personalized 'comfort zones' in different areas of your home, and reduce energy consumption in areas that are not being used
Applications of Mini-Split Heat Pumps:
Bedrooms
Dens, dining rooms, and living rooms/great rooms
Home offices
Areas that experience excessive heat loss or solar gain, compared to the rest of the home
In homes with central heating and cooling where certain rooms are consistently much colder and/or hotter than where the thermostat is located
For homes with hot water heat, or that don't have a central ducting system
For any room that you want to heat and cool independently
When central heating and cooling costs more to operate than you like
Multi-Zone Heating & Cooling, With Indoor Blower Options
Complimenting the benefits of the zoning approach afforded by mini-split heat pumps, multi-zone systems feature one outdoor condensing unit that can power multiple indoor blowers, keeping your outdoor footprint and noise levels well contained and at a minimum. Some models can power up to six indoor units. In addition to the popular, wall-mounted indoor blower units, other blower options include ceiling-cassette, floor mounted console, and modest duct-able blower units that can be hidden from view.
Mini-Split Heat Pumps For The Entire Home!
As our regional utilities continue to shift more and more toward wind and other renewable energy sources for generating electricity – away from burning fossil fuels – a steady flow of homeowners are following suit and converting their older, gas or electric heating systems over to ductless heat pumps. The zoning capability of ductless systems, combined with efficient and effective performance, make whole-home ductless systems an option worth considering – and an environmentally sound one, too.
Mitsubishi Ductless Systems Have ENERGY STAR Recognition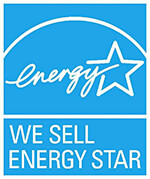 At Save Home Heat Company, our ductless mini-split heat pump and air conditioner product line of choice continues to be Mitsubishi Electric. The popular Mitsubishi M- and P-Series systems have been recognized by the EPA as meeting ENERGY STAR criteria, recognizing manufacturers who have met or exceeded all ENERGY STAR efficiency requirements. In addition, many popular Mitsubishi ductless systems meet ENERGY STAR Most Efficient standards, which recognize a variety of ultra high efficiency home products.  Mitsubishi is a worldwide leader in the ductless home comfort industry, and Save Home Heat Company is a highly rated Mitsubishi ELITE Diamond Contractor, their highest level of dealer recognition. We have over 30 years of experience installing ductless systems.
---
Central Heat Pumps
In homes where you are satisfied with the job that your furnace and ducting system do distributing warm and cool air around the house, a central heat pump is an option worth considering when installing new central air conditioning or replacing an older AC system.
A new central heat pump will do the exact same job as a traditional AC system of providing reliable, effective air conditioning to your home during the summer – with the added benefit of also providing heating during the winter. During relatively mild heating season weather, a properly sized, professionally installed central heat pump will handle most or all of the heating that's usually supplied by the furnace. One important result is reduced fossil fuel (gas/propane) consumption and a smaller carbon footprint for your home. In addition, by taking over some of the workload from the furnace, the heat pump will also help extend the furnace's lifespan.
Dual Fuel Heating Systems
When installed in tandem with a gas furnace in what's known as a 'dual-fuel system' (electricity powering one, and gas for the other), the central heat pump automatically hands off the heating chore to the furnace whenever it can't keep up with demand. A nice, smooth hand-off, and the furnace completes the job of reliably heating your home, just like it always has. A shared heating load, less stress on the equipment, increased efficiency, and a reduced carbon footprint.
The advantages of a central dual fuel heating and cooling system include:
Greener heating and cooling option than a standard furnace and AC system
Reduced gas consumption
Reduced carbon footprint
Improved system efficiency
Decreased load and increased lifespan for furnace
Two sources of heat instead of just one (a built-in backup system)
State-of-the-art comfort levels, all year-round
Our team feels that the optimum dual fuel central heating and air conditioning system is a combination of a high efficiency, variable-output furnace with a high efficiency, variable-output heat pump. Other enhanced performance options include high efficiency two-stage heat pumps, as well as high efficiency single-stage systems.
When considering a variable-output or a two-stage system, it's extremely important to have your existing system assessed by an expert who is very familiar with this type of equipment, before you make a decision. A less-than-ideal ducting system, for example, could impede the performance of these premium heating and cooling systems. If the situation cannot be remedied, it would make sense to consider other options. Save Home Heat Company has extensive experience installing and servicing variable-output and two-stage furnaces, air conditioners, and heat pumps. You can trust our advice and recommendations.
Heat Pump Rebates!
Utility company or manufacturer rebates may be available on certain high-efficiency mini-split and central heat pumps. Thru the end of 2022, BONUS REBATES from Xcel Energy currently provide rebate amounts up to $2,000 per system! Visit our Rebates & Incentives page or speak with one of our comfort advisers for up-to-date info!
Is it Time To Consider A Heat Pump System For Your Home?
You can count on our highly experienced team at Save Home Heat Company to answer all your questions about heat pumps and to provide expert recommendations in an informative, low-pressure manner. Please give our friendly, knowledgeable staff a call today to schedule a free installation quote. We service the Boulder/Denver metro area. We'll make sure that your ductless or central heat pump installation goes smoothly during every step of the process.
Talk to one of our Heat Pump Experts Today!