Central & Ductless Heat Pumps
Heat pumps can be an effective and efficient source of whole-house or spot heating. They are available in central and ductless models, and also provide air conditioning.
What is a Heat Pump?
An air-source heat pump is basically an air conditioner that works backward in the winter to generate heat, while still doing the same job as a central air conditioner during the summer. In centrally ducted heating systems, a heat pump typically is not sufficient as a primary heat source, so it would be used to supplement your gas forced air furnace. If you plan to install or replace an air conditioner anyway, an argument can be made to use a heat pump instead, especially if you're in an area with low electricity costs in relation to your cost of gas.
Ductless mini-split heat pump systems – also known as mini-split heat pumps – which are installed indepently of a central ducted system, are popular with our customers to heat and cool specific rooms or areas of their home that aren't served effectively by their central system. Ductless mini-split heat pumps and ductless air conditioners are highly effective in resolving these issues, and our customers are always amazed with the performance.
Ductless Air Conditioners
Just like central air source heat pumps, ductless air conditioners use electricity to generate heat in the winter and cooling in the summer. Stylish, quiet and effective, ductless systems rate very high in customer satisfaction, as well as operating efficiency. Some heat pump models can provide meaningful heat even when outdoor temperatures drop to near 10 degrees below zero. So when a gas line isn't available, or especially when air conditioning is also desired, ductless heat pumps are a simple and effective tool to both heat and cool individual rooms or areas in your home.
Mini-Splits For the Entire Home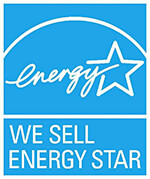 As our regional utilities continue to shift more and more toward wind and other renewable energy sources for generating electricity, and away from burning fossil fuels, a steady flow of homeowners are converting their older, gas or electric heating systems over to ductless heat pumps. The zoning capability provided by ductless systems, combined with efficient and effective performance, make whole-home ductless systems an option worth considering – and an environmentally sound one, too.
Save Home Heat's expertise and experience installing ductless mini-split heat pumps, while helping our customers take advantage of valuable utility company incentives, was recently recognized by Xcel Energy in awarding us their #1 Mini-Split Heat Pump Rebate Producer award for 2018.
Is it time to update your Ductless Air Conditioner or Heat Pump?
Brands We Carry