High Quality Electric Heaters
When it comes to home comfort, Save Home Heat Company has been the name to trust since 1979. With electric heating options growing in popularity and many homeowners moving away from fuel-burning appliances, now is the perfect time to take advantage of our electric heater services for Littleton, CO, and the surrounding areas.
Local Denver-Boulder utilities like Xcel Energy have committed to steadily increasing solar, wind, and other renewable energy sources to assist in the grid's electrical production. You can help this move towards green energy and reduce your carbon footprint with our energy-efficient electric home heaters to improve the heated comfort in your home.
Electric Heating Options We Offer:

Electric Radiant Cove Heaters
Suspended Electric Radiant Heaters
Suspended Electric Unit Heaters

Ductless Heat Pumps
Central Heat Pumps
Electric Baseboards
Electric Wall Heaters
Electric Heaters & Radiant Heaters for Littleton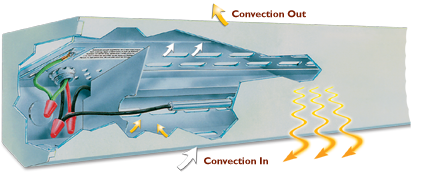 The chilly winters in Littleton require reliable heating solutions for a warm and comfortable home. Sometimes, areas in the home can need a little heating boost during those cold mornings and nights, and while portable space heaters can work in a pinch, we recommend alternative heating options due to safety, cosmetic, and temperature regulation control concerns.
Save Home Heat Company offers a wide variety of electric heating options, from suspended electric radiant heaters to heat pumps and electric wall heaters. All of the electric heaters we professionally install come with a variety of thermostat controls, including WiFi-enabled thermostats in some cases, for the best in convenience. An excellent long-term supplemental heating solution is the electric radiant cove heater. With a high-and-away installation mounted near the ceiling, these devices add incredible heating to a room without detracting from the space and design you've already allocated to the area.
Electric Heating Options Are:
Perfect for All Areas of the Home
Excellent Supplemental Heating Options
More Energy Efficient Than Ever
Convenient
Whether it's a living room, den, kitchen, or any other living area in your home, if it needs heating, we can help you find the perfect solution. Our friendly, experienced team offers advice and recommendations in a low-pressure manner so you can make and informed decision that's best for you and your home.
Heat Pumps and More
One of our most time-tested and customer-appreciated electric heating solutions is the ductless heat pump. Compact, quiet, and reliable, ductless heat pumps are an energy-efficient electric home heater that can be installed in a variety of unobtrusive placements, with the added bonus that they also provide AC during the summer. We also install central heat pumps, and no matter what room or area of your home needs a little extra heat, we'll assist you in finding the right product to meet your heating needs.
Our Complete Line of Home Comfort Services Includes:
AC Repair, Maintenance, and Installation – Ductless & Central Systems
Furnace, Boiler, and Heat Pump Repair, Maintenance, and Installations
Hot Water Baseboard and Radiant Heating System Service & Installation
Household Plumbing Services
Complete Residential Electric Services
Central Indoor Air Quality (IAQ) Products
Water Heater Repairs & Installation – Standard, High Recovery, Tankless, and more

For over four decades, Save Home Heat Company has been helping Littleton and the surrounding areas improve the quality of comfort in their homes. Our experienced team is committed to helping you make informed decisions that you will be satisfied with for years to come, and that will make your home a safer, more comfortable place to be. We've been recognized by consumer advocacy groups for our excellence in service, including holding a long-standing A+ rating and full accreditation with the Denver-Boulder Better Business Bureau.
To best serve you, we maintain a well-established local and regional supply network, and our complete team of comfort specialists can assist you range of home services including plumbing, electrical, air quality, heating, and cooling needs.
For any questions about our electric heaters in Littleton, please call us today.