Greener Living: Tips for a Sustainable Lifestyle
June 24, 2022
More and more homeowners are now thinking about the environmental impact of their homes. We're glad to report that the Environmental Protection Agency (EPA) provides a wealth of helpful tips for homeowners to help make their homes and their lifestyles "greener." Here's our spring 2022 overview of some of the notable recommendations from the EPA on how you can reduce your home's carbon footprint and help protect the environment.
Eco-Friendly Pest Control and Lawn Care
While there are some weeds and pests that can actually be beneficial to the environment (such as dandelions—they're great for attracting pollinators), others can be damaging to your lawn and garden, and also pose potential risks to human and animal health.
Pesticides and weedkillers are a course of action that homeowners occasionally turn to, but some of these products pose potential hazards to the environment and your health. Before jumping straight to the most aggressive control methods, take the time to learn about options that mimic nature and may get the job done for you in a less impactful way.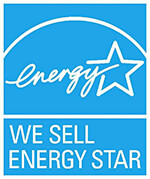 Some homeowners choose to forgo a lawn altogether in order to conserve water, planting a more water-wise garden or ground cover crop, often in combination with rock and gravel features. The landscaping practice of xeriscaping is a great way to help reduce your water footprint, and continues to be a growing field (pun intended!).
More eco-friendly lawn care tips:

For optimal water retention and a cool, healthy lawn, keep your grass 2 ½ to 3 inches in height, and mow before it reaches 4" tall
Keep lawn mower blades sharp
Leave grass clippings in the yard as a mulch
Consider replacing your lawn with a cover crop such as thyme, sage, feathergrass, or other conservative water-consumers, some of which also attract pollinators
Learn more about xeriscaping practices and see if some of that can be incorporated in your ornamental flower beds, lawn, and yard design
Use Water Responsibly
We talk a lot about using water responsibly inside the home in relation to the plumbing services we provide at Save Home Heat, but paying attention to your usage outdoors around your home is at least as important. The EPA recommends watering your lawn only 1 inch per week, the total amount of water coming from both your sprinkler system and rain from the sky, combined. If there is a considerable amount of rain during the week, take measures to temporarily shut off/override your sprinkler system to avoid consuming water that's not needed. Watering very early in the morning or at night helps to reduce water that's lost to evaporation. Saving water = saving money!
Choose Products Wisely
Buying greener options for your home is not only safer for the environment, it's safer for you and your family. Many household products, such as cleaning supplies, candles, hobby products and much more may contain harmful chemicals that we can inhale or absorb through our skin. It's worth noting that in a growing number of cases, greener products may even last longer or be multi-use, which of course saves you money in the long run.
Navigating the expanding "greenwashed" marketplace can make finding safer alternatives a challenge. While paying careful attention to the ingredients on the label certainly helps a lot, the EPA also recommends looking for credible ecolabels on products, such as their Safer Choice label and other reputable programs that identify products that are safer for our health and the environment.
Nontoxic and sustainable alternatives are now more widely available than ever. There is more information accessible about alternative, multipurpose products and DIY solutions that are based on research that has been ongoing for decades. Many items in your home pantry, such as vinegar and baking soda, for example, can be used for safe household cleaning. That's just the tip of a "greener" iceberg.
Recycling Your Electronics
Electronics have become exponentially more common over the past few decades, and recycling them properly at the end of their life helps divert waste from landfills (which ultimately contributes to pollution). When dealing with electronics that you no longer want or need, if still in serviceable condition, consider donating, reselling, or even giving them away to someone who can make use of them.
Electronics that cannot find a new home or are not worth attempting repairs (i.e. most older products) still need to be disposed of properly. Find an EPA Certified Electronic Recycler to make sure your items are recycled responsibly and safely handled to reduce health hazards for humans, animals, and the environment. For many people, this may entail a change of ingrained habits – but it makes sense to make the effort.
Reduce Your Waste
Reducing the waste that your home produces can help dramatically decrease your carbon footprint. From cooking with recipes that minimize food waste to choosing reusable products over disposables, there are a myriad of steps you can take to cut back on the amount of household waste that ends up in landfills.
Tips for reducing your household waste:

Choose glass, wood, or metal over plastic and other disposable products
Start a compost pile
Use reusable, washable cleaning items such as rags instead of paper towels, or glass containers instead of plastic bags
Bring reusable bags to the grocery store
Buy items in bulk whenever possible, to minimize wrapping material waste
Shop at local farmer's markets and support local businesses
Start a home garden
Buy secondhand products if it makes sense
Choose paperless billing and statements
Share large lawn equipment with neighbors
Take care of (and maintain as recommended by the manufacturer) your home products to extend their lifespan and efficient operation
Find more tips from the EPA for living a greener lifestyle.
Calculate Your Home's Carbon Footprint
It's no secret that our homes play a part in contributing to pollution in a variety of ways. That's in addition to driving our cars and trucks. To learn more about the impact your own home may be having on our environment, you can calculate your home's carbon footprint by using the EPA's Household Carbon Footprint Calculator .
Install Energy Efficient Home Comfort Systems
Choosing energy efficient home comfort, plumbing, and electrical systems will also help reduce your home's carbon footprint, and this is an area where our team at Save Home Heat has lots of experience helping homeowners around the Denver-Boulder area. Please reach out to our team if we can be of assistance.

Tags: Green Living