Premium Central & Mini-Split Heat Pumps in Lakewood
Heat pumps can be used in your home in Lakewood, CO to achieve effective and highly efficient whole-home or single room heating and cooling. Available in both central and ductless mini-split models, heat pumps continue to grow as a home comfort solution for many of our customers.
Understanding Heat Pumps
Air-source heat pumps are basically air conditioners that also work in reverse during the winter to heat your home, meaning that they provide both heating and cooling for year-round temperature control. There are many benefits of heat pumps to consider. Powered by electricity, they have zero reliance on fossil fuels, making them a cleaner, 'greener' way to heat your home. Like many around the Denver-Boulder metro area, Lakewood homeowners are looking closer at heat pumps as a viable option to conventional air conditioners, and as an efficient heating option to help reduce their carbon footprints and improve efficiency.
Central heat pumps are not usually sufficient to act as a primary heater in our area, and are installed together with a gas forced air furnace in what's known as a 'dual fuel heating system.' If you're considering having a new central air conditioner installed, or replacing an existing one, a central heat pump provides benefits that are worth considering.
Ductless mini-split heat pumps, also referred to as mini-split heat pumps, offer personalized heating and cooling for specific rooms or areas, independent of a central system. Mini-split heat pumps are popular product for homeowners who have a need to heat and cool rooms that their central system doesn't adequately serve, or who'd like to create independent comfort zones in the home. A ductless system could be a great fit and the ideal comfort solution for your Lakewood home.
Brands We Carry


Lakewood Ductless Mini-Split Heat Pumps
Ductless heat pumps regularly garner high grades from our customers. These systems afford sleek, quiet, efficient heating and cooling for individual rooms or areas in the home, providing reliable year-round comfort. They're a great complement to an existing central system, or can be used as an entirely independent heating and cooling source. The ability to create independent comfort zones in your home has many benefits, from achieving personalized comfort in each room, to the ability to use energy more efficiently, conditioning just the rooms that are being used. Noteworthy, certain ductless heat pumps generate useable heat even when outdoor temperatures drop to ten below zero! For rooms where both heating and air conditioning is desired, ductless heat pumps are an option well worth considering. Whether to solve comfort issues in specific problem areas, or in fully zoned whole-home applications, we recommend that you take the time to learn more about the ductless heat pumps.
Lakewood Mini-Split Heat Pump Benefits:
Very responsive, effective, and reliable
Remarkably quiet indoors & outside
Indoor blower units are sleek & unobtrusive, and don't require a huge hole in the wall or a window
Outdoor condenser is much smaller & quieter than a central system unit
Highly efficient with low operating costs – efficiencies up to 12.5 HSPF (heating) and 30+ SEER (AC)
INVERTER-driven compressor technology uses only the energy needed to do the job
Eliminates performance issues associated with older ducting systems that have air leaks
The ability to create personalized 'comfort zones' in different areas of your home, and reduce energy consumption in areas that are not being used
Applications of Mini-Split Heat Pumps:
Bedrooms
Dens, dining rooms, and living rooms/great rooms
Home offices
Areas that experience excessive heat loss or solar gain, compared to the rest of the home
In homes with central heating and cooling where certain rooms are consistently much colder and/or hotter than where the thermostat is located
For homes with hot water heat, or that don't have a central ducting system
For any room that you want to heat and cool independently
When central heating and cooling costs more to operate than you like
Multi-Zone Heating and Cooling in Lakewood
To compliment the zoning benefits that mini-split heat pumps afford, a multi-zone system features a single outdoor condensing unit that can power up to six indoor units, depending on the model. This helps to keep your outdoor sound levels and footprint at a minimum and well contained. The wall-mounted indoor blower unit remains a popular option, and other options include duct-able units that are easily hidden from view, ceiling-cassette blower units, and floor mounted console models.
Ductless Heat Pumps For Whole-Home Heating and Cooling!
Wind, solar, and other renewable energy sources continue to be a growing focus for electrical generation with our regional utility companies, and many homeowners in Lakewood are looking to join the trend in moving away from burning fossil fuels. Converting your older gas or electric heating system over to a whole-house ductless mini-split heat pump system might be an option that makes good sense for you and your home.
ENERGY STAR Recognized Mitsubishi Ductless Systems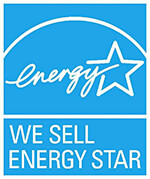 Our team at Save Home Heat Company has been recommending Mitsubishi Electric as our preferred ductless mini-split heat pump and air conditioner product line for over 25 years, and Mitsubishi has been a worldwide leader in ductless home comfort for over 50 years. Their popular M- and P-Series systems are recognized by the EPA as meeting or exceeding all ENERGY STAR efficiency criteria, and many models we sell also meet ENERGY STAR Most Efficient standards, which each year recognize a variety of ultra high efficiency home products. Save Home Heat is a Mitsubishi ELITE Diamond Contractor, designating our team as one of their top dealers nationwide.
---
High Efficiency Central Heat Pumps in Lakewood
A central heat pump is a good option to consider when replacing an older central air conditioner or installing new central AC in a home where you are satisfied with the job ducting system does of delivering warm and cool air around the home.
Central heat pumps serve the exact same function as a conventional air conditioner in cooling your home during the summer, and also provide heating during the winter months. Under relatively mild heating season conditions, a properly sized and professionally installed central heat pump can handle most or all of the heating needed to keep your home comfortable, taking over some of the load from your furnace. There are a number of benefits of central heat pumps, including reducing your carbon footprint and the annual wear and tear on your furnace.
Dual Fuel Heating Systems
Installed alongside a gas furnace, a central heat pump creates a 'dual fuel system', with electricity powering the heat pump and gas powering the furnace. The central heat pump will automatically hand off the heating to the furnace when it can't keep up with the amount of heating called for in the home. This shared heating workload means less stress on both systems, higher efficiency, and a smaller carbon footprint than relying solely on a central gas furnace.
The advantages of a central dual fuel heating and cooling system include:
Greener heating and cooling option than a standard furnace and AC system
Reduced gas consumption
Reduced carbon footprint
Improved system efficiency
Decreased load and increased lifespan for furnace
Two sources of heat instead of just one (a built-in backup system)
State-of-the-art comfort levels, all year-round
At Save Home Heat Company, we believe the best dual fuel central heating and AC system is created by combining a high efficiency variable-output furnace with a high efficiency variable-output heat pump. Additional enhanced performance options include both high efficiency two-stage heat pumps and high efficiency single-stage systems.
Before having a variable-output or two-stage system installed, it's in your best interests to contact an expert familiar with these systems to assess your current situation. Our team has many years of experience servicing and installing variable-output and two-stage heat pumps, furnaces, and air conditioners, and you can rely on our advice and recommendations to find the solution that will work best in your home.
Rebates for High Efficiency Heat Pumps
If you're thinking about having a heat pump installed in your Lakewood home, be sure to speak with one of our comfort advisors or visit our Rebates &Incentives page to learn about special savings that may be available. Certain high efficiency mini-split and central heat pumps may qualify for valuable utility company and/or manufacturer rebates!
Considering A Heat Pump For Your Home?
Our highly experienced team at Save Home Heat Company will provide you with ample amount of information and answer all of your questions about heat pumps in a low-pressure manner, so that you can make a decision that's right for your home, and that you'll feel good about for many years to come. Our high levels of expertise and decades of experience will help ensure that your ductless or central heat pump installation will go smoothly from beginning to end. To learn more or to schedule a free installation quote in Lakewood, please contact our staff today!
Our Complete Line of Quality Home Services Includes:
AC Repair, Maintenance, and Installation – Ductless & Central Systems
Furnace, Boiler, and Heat Pump Repair, Maintenance, and Installations
Hot Water Baseboard and Radiant Floor Heating System Service & Installation
Household Plumbing Services
Complete Residential Electrical Services
Central Indoor Air Quality (IAQ) Products
Water Heater Repairs & Installation – Standard, High Recovery, Tankless, and more
Talk to one of our Heat Pump Experts Today!