Mini-Split Heat Pump Indoor Blower Units: You've Got Options!
February 10, 2023
Given the growing popularity of ductless, mini-split heat pumps, it's no surprise that our writing team continues to find ways to further educate our readers about various aspects of these great home comfort systems. In this blog post, we're going to dive a little deeper into the different ways ductless heat pumps can deliver warm and cool air to homes.
Known as indoor blower units, or air handlers, the wall-mounted models are by far the most popular option with our customers, but there are a variety of other air handler alternatives that complete the picture. A broad selection of indoor blower models helps our team at Save Home Heat Company perfectly fill specific or unusual needs whenever they arise.
Let's take a closer look at the industry-leading Mitsubishi mini-split line that we have been installing and servicing for nearly 30 years, and is representative of what's currently available to homeowners.
The numbers presented below represent our synthesis of what's currently available from Mitsubishi.
Blower Units Available for Ductless Heat Pump Systems
From units located high on a wall, to models designed for ceiling or floor installation – or even hidden in an unfinished space – Mitsubishi indoor blower units cover a lot of ground. With fan performance CFM ratings well suited to small bedrooms and offices, as well as great rooms, dens, master suites, and kitchen/dining areas, and heating and cooling ratings to match, whole-home mini-split heat pump installations continue to grow in the Denver-Boulder metro area.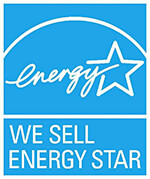 With all blower unit options, it's crucial to properly match the fan capabilities of the indoor blower unit with the size of the space that it's servicing, and it's equally important to make sure that the indoor blower unit is properly matched with the outdoor condenser that's powering it.

As a longstanding Mitsubishi ELITE Diamond Contractor, that's our job at Save Home Heat Company, and we feel our team does it well!
Wall-Mounted Blower Units
Wall-mounted blower units in the Mitsubishi residential M Series line continue to be very popular because they don't take up any floorspace and installation is straightforward. They only require a 3-inch hole in the wall to run electrical and refrigerant piping to the back of the unit, all of which are hidden behind the finished, installed indoor unit.
The dimensions of the M Series blower units range in width from 32" to 46", height from 12" to 14", and their depth extending out from the wall ranges from 9" to 12". The larger the heating and cooling capacity of the unit, the larger the dimensions, and of course the larger the area the ductless unit can service.
Mitsubishi M Series blower units currently can deliver heat in the range from 6,000 to 36,000 BTUs per hour, depending on the model. That's a pretty healthy range for heating a single area in a home. For comparison sake, many homes we work in have furnaces sized in the 70,000-125,000 BTU/hour range to heat the entire home.
The CFM (Cubic Feet per Minute) ratings for the multi-speed fans on these blower units ranges from low speeds in the very quiet 150 CFM range, to as high as 900 CFM on high speed for some larger models. The circulator fans on whole-home furnaces, again for comparison, often range between 1,000 for modest size homes to 2,000 CFM for larger homes, for the entire home. Again, Mitsubishi covers a lot of ground in fan performance, with the ability to suit a wide variety of applications.
The capabilities of the M Series blower units continues to expand as Mitsubishi introduces newer models nearly every season.
Ceiling-Mounted Units
One-direction ceiling cassette models are designed to be installed in standard frame ceilings between 16" on-center floor joists (common in the homes we work in). These units range from approximately 33" to 46" in width, and extend upward into unfinished space as much as 14", depending on the model.
There are also multi-directional ceiling cassette blower units available which are designed to fit standard 2' square drop ceilings. We occasionally see applications for these units in finished basements and sometimes in kitchens, as well. We won't bore our readers with heating, cooling, and fan ratings of these units, but please feel free to quiz our estimators if you have us come out for an installation quote.
Horizontal Ducted Units & Multi-Position Air Handlers
Ducted blower units and multi-position air handlers are designed to be installed in unfinished spaces such as an attic or crawlspace, and attach to an appropriately sized ducting system – complete with air supply registers and return air grilles in the finished space.
This is similar to what you might see in a whole-home forced air furnace system, but typically on a smaller scale. Certain models of air handlers can handle relatively large areas and in some cases even a modestly sized home, while others, such as the horizontal ducted units, are better suited for scaled-back duct systems serving specific areas of the home.
Without getting too buried in numbers, the dimensions and fan ratings of Mitsubishi's larger capacity air handlers start to resemble those of a small furnace. The heating and cooling capabilities of this group of air handlers currently ranges from 4,000 to 36,000 BTUs/hour.
Of course, our team at Save Home Heat accurately assesses each situation and makes detailed recommendations based on what we observe and what we hear from the homeowner. The benefits such as the zoning ability that these systems afford still come into play, even when we're discussing the ducted air handler option.
Floor Consoles
Floor-mounted console blower units are occasionally the best fit for finished spaces where an upper wall or an adjacent unfinished space simply doesn't make sense to consider. A floor console can pack quite a heating and cooling punch in a limited floorspace area. In general, these units are around 30" wide and 2' high, with a depth off the wall of around 10", and their heat delivery capabilities are impressive.
Multi-Zone Mini-Splits Can Power All Types of Blower Units!
Multi-zone, mini-split heat pump systems have the ability to power any or all of the above air handlers from a single outdoor condensing unit, in a variety of combinations. Of course it's not quite that simple. Each blower unit connected to the outdoor condenser must be properly matched with the heating and cooling capacities of the chosen zone on the outdoor unit, along with the room it's serving. That's usually not an issue. Mitsubishi offers a wide variety of multi-zone outdoor units (2-to-1, 3-to-1, etc.), some of which can power as many as 8 independent indoor blowers. The ability of multi-zone heat pumps to heat and cool most or all of a home from a single outdoor unit is one of many attractive features of ductless mini-split systems. With more than one multi-zone system, providing comfort to an entire home can often be easily accomplished.
---
Finding the Right Heating & Cooling System for Your Denver-Boulder Home
Almost annually, we see mini-split heat pump manufacturers like Mitsubishi roll out new residential indoor and outdoor units, with greater capacities and even more flexibility for home applications and installation. In the case of Mitsubishi, their proven, light commercial P Series ductless line also fills higher capacity needs, when circumstances point to that as an option worth considering.
Homeowners in the Boulder-Denver metro area trust our comfort team at Save Home Heat Company to make heating and cooling recommendations that make the most sense their needs, and are the right fit for their homes, too. Whether a ductless mini-split heat pump system or another solution that better fills your needs, you can count receiving ample amounts of information and well thought-out, professional solutions that make sense for you to consider – all in a friendly, low-pressure fashion.
Please contact me to schedule a free heating & cooling quote for my home!