Our Most Popular Moderate Efficiency Replacement Furnace
August 23, 2021
At Save Home Heat Company, we've been taking pride in providing quality home heating equipment, trusted professional recommendations, and top-level service to our customers for over 40 years. Before representing a product line, we fully vet the manufacturer and their products to make sure they meet our exacting company standards that our team has been steadily refining since high efficiency home heating was in its infancy. While it wasn't always smooth sailing in the early days, manufacturers and heating contractors alike have grown from the experience. The systems we install in 2021 reflect decades of continued development and fine tuning of proven designs, components, and materials.
This blog will focus on moderate efficiency replacement gas furnaces for central forced air heating systems such as many of our customers in the Denver-Boulder metro area own. We will be highlighting our product line of choice, which is still Lennox, and their flagship moderate efficiency furnace that is very popular with our customers and our team. It is currently our top recommendation for an 80% efficient replacement furnace.
What Does 'Moderate Efficiency' Mean?
Simply put, a moderate efficiency natural gas or propane furnace is a unit that carries an efficiency rating of approximately 80% AFUE (Annual Fuel Utilization Efficiency). When looking at replacement furnaces, while there are a variety of higher efficiency models available, it often comes down to budgeting priorities in combination with what makes the most sense for the particular circumstance and application. In some cases, a more moderate efficiency – and modestly priced! – 80% AFUE replacement furnace may be the better fit.
Why Choose a Moderate Efficiency Model?
There are a number of good reasons why a homeowner might opt to invest in a moderate efficiency furnace, as opposed to a unit in the 90% AFUE and higher range. The most common of these include:
Current heating bills are very reasonable. Need to replace the furnace is a result of age, reliability, and/or safety concerns
Owner plans to sell the house in the near future and prefers to delay investing in top-of-the-line equipment until residing in their 'dream home.' Investing in a high efficiency furnace is not necessary to make the home more attractive to prospective purchasers
The home is intended as a rental unit, with no desire or motivation for the owner to invest in a top-end system
Location of the furnace makes the installation of venting for a high efficiency unit virtually impossible or cost-prohibitive (for example, existing furnace located in a closet in the middle of a finished basement, with an existing flue chase that cannot accommodate new venting for a 90+ furnace)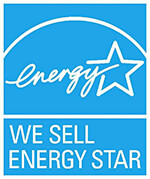 80% Efficient Furnace Designs and Features to Choose From
There are three primary types of moderate efficiency furnaces available, starting with the most basic, conventional design, moving upward to higher levels of comfort, lower fuel consumption, and lower operating sound levels.
Single-Stage 80% AFUE Furnaces
80% AFUE rated single-stage furnaces are the basic workhorses of the moderate efficiency range. Featuring a conventional multi-speed main fan motor such as many of us are accustomed to, with a single-speed exhaust fan, some of these units are available with options such as more electrically efficient motors. In general, you can expect the design, operation and performance of these units to be similar to 80% efficient furnaces that were built 25 years ago. One level of heating output, the fan comes on full at a pre-determined speed, reliable, and a fairly simple design. We never said that was a bad thing!
Two-Stage, 80% AFUE Furnaces
Two-stage furnaces, as the name implies, provide two levels of heating output. Depending on conditions, the furnace can automatically switch from 'low' to 'high' fire in order to satisfy the thermostat and maintain proper comfort levels in the home, as needed. When operating in 'low fire' – when the home doesn't need the full heating output of the furnace to stay warm – the gas valve, the main furnace fan, and the exhaust fan all operate at reduced levels, using less gas and electricity, and also running much quieter, as well.
Compared to single-stage units, two-stage furnaces normally run longer during each heating cycle, much of the time at low fire and low fan speed. This design feature provides more uniform, even heat distribution around the home, while also affording more favorable conditions for your furnace filter and central humidifier to do their jobs better. In addition, a two-stage furnace can accommodate the addition of a two-stage central air conditioner to the system, if desired. The benefits of two-stage central air conditioning are similar to those of two-stage furnaces, on the cooling side of things. Two-stage heating and cooling – along with variable-capacity systems – is one of the most popular innovations in our industry in recent decades.
Top of the Moderate Efficiency Line: Two-Stage, Variable-Speed, 80% AFUE Furnaces!
The top of the line in moderate efficiency furnaces is occupied by 80% models that are equipped with two-stage heating, but instead of having a two-speed fan to blow air around the home, these units have a variable-speed fan. Variable-speed furnace blowers turn on at a very low, unobtrusive speed and slowly ramp up when the furnace initially turns on. During the heating cycle, the fan speed automatically adjusts in order to maintain optimal operating conditions, and when the furnace turns off, the fan smoothly ramps back down instead of shutting down suddenly. The advanced ECM motors used in variable-speed furnace fans are the most electrically efficient and quietest available.
These premium moderate efficiency furnaces, due to the variable-speed fan, offer a number of additional benefits as compared with 'standard' two-stage furnaces. These include even more uniform heat distribution throughout the home, even quieter operation, and further enhanced furnace filter and central humidifier performance. In addition, a furnace that's equipped with a variable-speed fan can be matched with a single-stage, two-stage, or even a variable-capacity central AC system (the quietest, most efficient central AC you can buy). With a two-stage, variable-speed, 80% furnace, all central cooling options are on the table!
Lennox SL280V: Our Top Moderate Efficiency Furnace for Denver-Boulder Homeowners
The Dave Lennox Signature Collection model SL280V is an industry-leading, two-stage, variable-speed, 80% efficient furnace, and is the preferred moderate efficiency replacement furnace with our customers in the Denver-Boulder area. In 2011, the SL280V was certified by independent, industry-wide testing as the quietest furnace in its class, and Lennox still lays claim to this distinction. With a 9-year track record and plenty of satisfied customers, we highly recommend this unit for homeowners shopping for an 80% efficient furnace.
Benefits of the Lennox SL280V Two-Stage, Variable-Speed Furnace include:
Quietest furnace in its class
Two levels of heating output for greater comfort and reduced gas consumption
Most electrically efficient 80% AFUE option
Best 80% efficient furnace option to help reduce or eliminate stratification (hot spots) in the home
Provides optimal conditions for the furnace filter and central humidifier to do their jobs best
Variable-speed feature provides the widest variety of options for matching with a new central air conditioner, including two-stage and variable-output AC systems
Very quiet system startup and shut-down
Proven technology
Reliable track record and dependable support from a highly reputable manufacturer
Trusted Furnace Replacements in the Denver-Boulder Area
If you're considering replacement of the furnace in your Denver-Boulder area home, you can trust our knowledgeable, highly skilled, and experienced team at Save Home Heat Company to provide you with exceptional service and a variety of quality replacement furnaces to choose from – all in an informative, low-pressure manner. We'll take the time to listen carefully to your input and fully and patiently answer all your questions so that you can make an informed purchasing decision that you'll feel good about, now and for years to come. No pressure, no sales hype, ever. Our sole focus is your best interests.
To learn more, or to receive a free, no obligation install quote, please reach out to our friendly team today.
Please contact me to schedule a free, no obligation, furnace replacement quote!

Tags: Cooling, Heating