Is A Whole-House Tankless Water Heater The Right Fit For You?
October 5, 2020
With steady advances in technology, capabilities, and reliability, whole-house tankless gas water heaters continue to grow in popularity with homeowners in the Denver-Boulder area. Our team would like to take this opportunity to revisit the benefits provided by tankless water heaters while taking a closer look at some of the details that contribute to this growing trend with our customers.
Tankless Water Heaters: A Recap
Some of the benefits of whole-house gas tankless water heaters are well-known, contributing to their growth as a hot water option for homeowners in the Denver-Boulder area and surrounding communities. From taking up less space than traditional tank-style water heaters, to having a much longer projected lifespan, there are plenty of reasons to consider a tankless model over a standard water heater. Saving money on hot water costs due to higher energy efficiency is a big plus, too!
Primary benefits of tankless water heaters:

Very high efficiency
Saves valuable floor space
Virtually endless supply of hot water (with a properly sized system)
No storage tank to keep hot 24/7
Much longer projected lifespan than tank-type water heaters
Reduced fossil fuel consumption means smaller carbon footprint
While these advantages are enough for many homeowners to consider a tankless water heater, there are even more benefits to dig into. Let's take a closer look at some details.
Specific Advantages of Whole-House Gas Tankless Water Heaters
Efficient, Safe Operation
Certain models that we install are so efficient that, like high-efficiency furnaces and boilers, they are classified as condensing heaters, and their vent systems are specified to use Schedule 40 PVC plastic pipe. The sealed combustion venting design that's common in virtually all units helps keep operating sound levels at a minimum while using only outside air in the burning process – the safest and accepted standard for all types of high-efficiency gas heaters.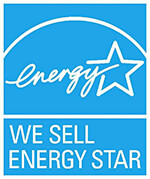 The tankless water heaters we install only burn as much gas as is needed to meet your immediate hot water needs. Featuring an automatically adjusting gas control, these systems only operate at full capacity when demand requires it. The rest of the time, they use less gas and run even more efficiently. In fact, the Uniform Energy Factor (UEF) ratings of our most popular high efficiency and super high-efficiency models range from approximately .8 UEF to .95 UEF (the super high-efficiency models are ENERGY STAR certified), far more efficient than popular standard tank systems, whose UEF ratings range from .60 to .65.
During operation, electrical consumption is less than a 100 watt light bulb!
Low Sound Levels
Most models have very low sound levels when operating. When not operating, they are silent. The two high-capacity units that our team often installs have sound ratings of 47dB and 48dB, described by various sources as somewhere between a quiet library or a babbling brook on the low end, and a refrigerator, conversation, or 'ambient urban sound' on the high end. Smaller capacity units are even quieter.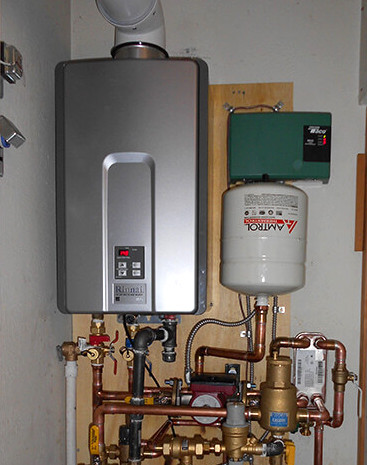 Compact Size
As a general rule, tankless water heaters are wall-mounted, very compact, and lightweight (approx. 50 to 75 lbs.). The most popular models that our team installs are high-capacity units with gas ratings of nearly 200,000 BTU/hr. Their dimensions range from approximately 14" to 19" in width; in height, from 27" to 32"; and in depth (extending off the wall) from only 10" to 12". Talk about compact and packing a big punch!
Convenience
Certain models have the ability to be installed in a hot water recirculation system, for the fastest hot water delivery possible. In addition, many models offer remote WiFi monitoring and management capability, making your hot water experience incredibly convenient. A number of tankless water heaters offer great flexibility in the use of indoor and outdoor combustion air, as well as the length allowances and configurations of the vent piping. Along with natural gas models, we can also assist you with propane-fired units.
Tankless water heater benefits also include:
Many models are ENERGY STAR certified
A broad range of applications and flow rate capacities
Automatic, pilotless ignition systems on all models
Modulating gas valves to accurately dial-in desired output temperature
Quiet, safe operation with sealed combustion venting
Extremely versatile venting in some models
WiFi capability in many models!
Contact Our Plumbing Team For Professional Assistance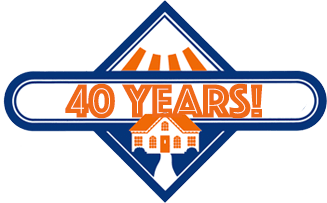 In the Denver-Boulder metro area, Save Home Heat Company is your best call for expert advice and highly skilled installation of a quality, tankless gas water heater sized to match your needs, and the right fit for your home. If our team feels that a tankless unit is not the best fit for your system and your family, we'll let you know and will discuss other options with you in an informative, low-pressure manner. You can trust our decades of experience, our high levels of expertise, and our strong commitment to your complete satisfaction, to provide you with the best solutions to your hot water needs. For more information, or to schedule a free water heater installation quote, please contact us today.
Please contact me to schedule a free water heater quote, or to schedule service!