The Heat Pump Alternative for Replacement & New Central AC
April 28, 2021
If you're planning to replace an aging or defunct central AC system, or are having central cooling installed in your home for the first time, it may make sense for you to consider a heat pump as an alternative to a conventional air conditioner. Although they've been around for decades, heat pumps are experiencing a resurgence in popularity as many homeowners are choosing more environmentally friendly home comfort options, and equipment efficiencies continue to improve. A step in the direction of 'greener' home heating is just one of the benefits of choosing a heat pump over conventional central AC.
Let's take a closer look at the reasons why a heat pump system might be the best central AC option for your home.
Central Heat Pumps vs. Conventional AC
The basic difference between a conventional central air conditioner and a central heat pump is that an air conditioner is designed to provide only cooling, while a heat pump cools exactly like central AC and also provides heating during the winter. Think of the closed refrigerant system in a central AC system having the ability to operate in two directions, producing both cool air in the summer and warm air in the winter. That's essentially what a heat pump is.
In areas of the country where relatively mild temperatures are the norm throughout the year, central heat pumps can serve as a primary heating system, working in a central forced air system with an air handler. In regions like most of Colorado, however, where wintertime temperatures consistently drop below freezing, central heat pumps are typically paired with a furnace in a "dual fuel system," with the heat pump and furnace operating in well-coordinated fashion to reduce gas consumption and improve overall heating efficiency, among other benefits. As mentioned above, during the summer the heat pump operates just like an air conditioner.
Advantages of a Central Heat Pump vs. Central Air Conditioning
Here's a brief rundown of the most common reasons why a homeowner should consider choosing a central heat pump over conventional central AC. Don't be surprised if the focus of these benefits is on what heat pumps bring to the table during the heating season:
Greater Year-Round Energy Efficiency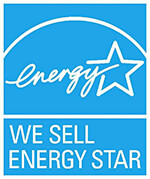 For central cooling, both air conditioners and heat pumps are available in a broad range of SEER efficiency ratings; the higher the SEER, the lower your cooling bills. Where the energy efficiency (and utility bill) bonus of central heat pumps can be found is during the wintertime, when the furnace and heat pump work seamlessly together, allowing the highly efficient heating aspects of the heat pump to shine when outdoor temperatures are not too cold, with the furnace smoothly, automatically taking over the heating when needed.
A gas furnace combined with a central heat pump in a dual fuel system will result in lower gas consumption for heating, combined with efficient electric heat produced by the heat pump operating under optimum conditions. The overall impact: reduced energy consumption for heating, combined with highly efficient central cooling!
Greener Heating
Central heat pumps are a great option for homeowners who have been satisfied with the effectiveness of their forced air system, but who desire to reduce their home's carbon footprint. Electric heating products, of which heat pumps are a major player, continue to carve a greater niche in the residential market. Their growing popularity is due mainly to their lack of reliance on fossil fuels (gas/propane/oil) and increasingly efficient designs, combined with the commitment of utilities such as Xcel Energy to increasing their use of renewable energy (wind and solar) for electrical production for the grid. In a central dual fuel system, heat pumps provide 'clean, green' electric heating in place of gas heating whenever outdoor conditions allow: A step in the greener heating direction that a conventional central air conditioner simply cannot offer.
Less Stressful, Extended Furnace Life
Another great advantage of having a heat pump in a dual fuel central heating and cooling system in your home, versus traditional AC, is that with the heat pump taking over a portion of the heating load from the furnace, the furnace will operate with less stress throughout the heating season, reducing the likelihood of parts failure. In addition, by handing off a portion of the annual heating load to the heat pump, the furnace's lifespan stands a good chance of being longer as a result of reduced use.
Built-In Backup Heating System

In a dual fuel system, the presence of a heat pump provides your home with two heating systems in one package. So, if one them stops working, in many cases you may have a backup heater sitting right there attached to your ducting system. Yet another advantage of the dual nature of central heat pumps!
Great Long-Term Investment
As with most high efficiency, enhanced performance home comfort systems, the longer you have the system, the more the energy savings continues to add up over the years. This also holds true for a central heat pump working in conjunction with a high efficiency furnace. And while this is certainly no slight on high efficiency central AC systems – we install plenty of them, and our customers are very pleased! – it may give pause for central AC shoppers who have no plans to move on to another dwelling in the foreseeable future. With a central heat pump, you can reap year-round benefits for years to come!
Variable-Output and Two-Stage Central Heat Pumps: The Ideal Dual Fuel System
Going hand-in-hand with improved efficiency and system performance, as with conventional central AC, central heat pumps are also available in variable-output and 2-stage models. For the ultimate in quiet, comfortable, efficient, more even performance throughout your home, throughout the year, these state-of-the-art central heat pumps are the perfect match for variable-output and 2-stage furnaces. The ultimate in dual fuel heating and cooling!
The Right Central Heat Pump or AC for Your Home
If you're planning to replace or install a central AC system in your home in the Denver-Boulder metro area, Save Home Heat Company can assist you with a broad selection of quality air conditioners to choose from. If you are interested in learning more about the heat pump alternative to central AC, or if our team feels it makes sense for you to consider a heat pump for your unique circumstances, we're glad to explore those products in an informative, low-pressure manner.

While there's many good reasons to consider a heat pump system in lieu of conventional central AC for your home, they're not the best fit for everyone. Our job at Save Home Heat is to enable our customers to make informed decisions that they'll feel comfortable about now and for many years to come. If you reside in our service area, please reach out to our team to learn more, or to schedule a free, low-pressure install quote for your home.

Please contact me to schedule a free, no obligation heat pump or AC quote!

Tags: Cooling, Green Living, Heating