The Many Ways A Boiler System Can Heat Your Home
March 9, 2021
Is your home heated by a central hot water boiler? If so, you are probably aware of many of the benefits that a zoned hydronic heating system affords, foremost among them the ability to create personalized comfort zones in different areas of the home, each set to the desired temperature for the people using those areas. In addition, the ability to turn down the thermostat in unoccupied areas provides dollar savings in your monthly utility bills. This is a great start to understanding hot water-based home heating, but what many of our customers may not be aware of are the many different ways that a boiler can deliver heat to your home.
Here's an overview of standard, state-of-the-art, and unique ways you can heat your home using hot water. Our team hopes it'll help get you started thinking of ways to improve your heating system's performance and foremost, your comfort levels.
Hot Water Heat Delivery Options & Applications
As with any heating system new install or replacement, an accurate heat load calculation is required in order to determine the overall heating needs of the home. Equipment sizing is based on maintaining indoor comfort levels under worst-case, frigid outdoor conditions. The heat measurement term "BTU" comes into play throughout the process.
After determining the total heating needs of the home, the next step is determining the amount of heat, or BTUs, needed in each of the different rooms in the home, and matching those rooms with properly sized products to deliver ample amounts of heat. Think of your boiler system as a network of piping around the home, circulating hot water to be used to independently heat each of the zones in whatever fashion has been setup for that area. Depending on the characteristics of each comfort zone, as well as the desires of the homeowner, a variety of products are available to deliver hot water heat efficiently and effectively throughout the home.
Hot water baseboard heaters
For decades, hot water baseboard heaters have been the most common and recognized way to distribute heat from a boiler in residential applications. We've all seen the traditional metal enclosures containing copper pipes with aluminum fins sitting at the base of walls all around homes that have hot water heat. There are standard output baseboard heaters, commonly used where there's plenty of available wall space, and there are also high-output models available, which are typically taller and contain two rows of baseboard element instead of just one. A variety of modern and ornate styles and finishes are available, and we've even seen some creative carpentry incorporating baseboard element in custom-made enclosures.
Radiant floor tubing
Radiant floor tubing is popular in new construction hot water heat applications, as well as in additions and remodels. The tubing – typically made of a special plastic or rubber formulation – is normally secured in a thermal mass such as a concrete slab or similar subfloor material, and is laid out in the slab uniformly around the entire room. The slab absorbs heat from hot water circulating through the tubing and radiates it upward, providing uniform warmth at floor level all around the room. Great for homes where you like to go barefoot!
Radiant tubing can also be retrofitted for any floor in an existing home that has unfinished space directly below. Think of the ceiling of an unfinished basement and adding radiant floor tubing for the main floor right above. This can be a great upgrade option if you want to abandon some baseboard heaters and desire the comfort advantages radiant floor heat provides. It's not uncommon to see radiant floor heating used in combination with other types of hydronic heating products located in other zones in a home.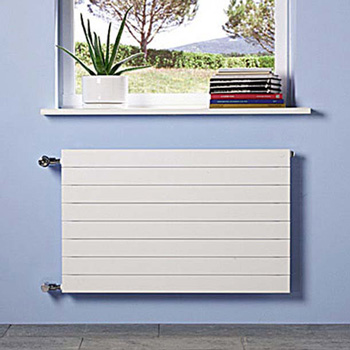 Radiators
Radiators are available in a broad variety of styles including modern and classic floor-standing models, sleek wall panels, baseboard radiators, and a wide variety of specialty styles, sizes, materials (including traditional cast iron), and finishes. Hydronic towel warmers are even an option! Hot water radiators are available from quality, reputable manufacturers in the U.S., as well as from around the world.
Fan convectors
Fan convectors use the water in a hydronic heating system to generate and deliver warm air in a self-contained forced air package. Fan convectors are relatively compact and modern styled, and the most popular models are wall-mounted units. They are operated with a thermostat, similar to the other heating zones in the home.
Fan convectors are also available for installation in the kickspace below cabinets in areas such as kitchens and bathrooms. Another type of fan convector are air handlers, which can be hidden from view in unfinished space, and can be used with scaled-down ducting systems.
Indirect-fired water heaters: A great domestic hot water option!
While not technically a way to heat your home, an indirect-fired water heater, also known as a sidearm tank, is a great way to further utilize the benefits afforded by your central boiler. Compared to traditional tank-type water heaters, an indirect-fired water heater can significantly, noticeably increase your hot water supply, and also dramatically shorten recovery time. Connected to your boiler as a prioritized zone, an indirect-fired water heater, which contains a high efficiency heat exchanger and is heated by the boiler, is an option well worth learning more about as a replacement for an aging standard water heater – or as an exceptional upgrade if you just want more hot water. These unique, tank-type water heaters carry excellent long term warranties to the original purchaser.
High Levels of Expertise for the Best Results
It pays to enlist the experience and skills of a trusted plumbing and heating contractor when considering upgrades to your home's hot water heating system. Accurate sizing of your new equipment, finding the right product matches and capacities for the different areas in your home, professional installation standards, and dependable, expert customer support before, during, and after the work is done all are important considerations. The stakes are your comfort, peace of mind, and ensuring that your home will stand up to the coldest winter conditions. It pays to hire an established, highly reputable pro to make sure your heating system will stand the test of time. In the Denver-Boulder metro area, that heating contractor is Save Home Heat Company.
Please contact our friendly, knowledgeable team today for expert advice and low-pressure recommendations on ways to heat your home and enhance the performance of your boiler system. Our only goal is your comfort and your complete satisfaction with our work.
Please contact me to discuss upgrades to my heating system!

Tags: Boilers, Heating Systems