Premier Water Heater Service in Englewood
For highly experienced and reputable water heater service in Englewood, CO, you can count on our skilled technicians and plumbers at Save Home Heat Company. We've been providing knowledgeable, dependable service to area homeowners for over 40 years and you can rely on our experience to help you improve the comfort, efficiency, and convenience you enjoy in your home.
Save Home Heat Company has many years of service and installation experience with a wide range of both standard hot water heaters and a variety of specialty application and high efficiency models. Our team recommends products and services that will best meet your unique lifestyle and hot water needs.
Our customers appreciate us for:
Our commitment to fully educating them on our findings and recommendations, and answering any questions, so they can make informed decisions
Maintaining an A+ rating with the BBB, Google, and many others
Having highly skilled, courteous technicians and plumbers
Providing high quality, manufacturer-approved repair parts and a broad range of quality equipment
Offering system replacement and upgrade options in a low-pressure, informative manner
Communicating clearly and providing complete documentation of all major products installed and services performed
Striving to be highly responsive to our customers at all times
Following up after work is completed, to make sure our customers are 100% satisfied
Professional Englewood Water Heater Installation
Our Save Home Heat Company plumbing can help find the perfect water heater for your home. If you're in need of a replacement or are interested in an upgrade for your current hot water system, we carry a broad product line to accommodate virtually any home hot water need. Certain models we carry have high UEF (Uniform Energy Factor) ratings that can qualify for some great rebates!
When we perform a water heater replacement, our team always takes great care to cleanly remove the old water heater and properly dispose of it through our company recycling program. We always adhere to all manufacturer and local code requirements to ensure a lasting, reliable installation that you'll be pleased with for many years.
High Performance Gas & Electric Tank Water Heaters
Our line of traditional tank type water heaters are high quality and come in a wide range of sizes, efficiencies, and recovery ratings to suit a variety of applications. We install natural gas, propane, and electric tank type water heaters that offer features and options you won't find at your local chain retailer.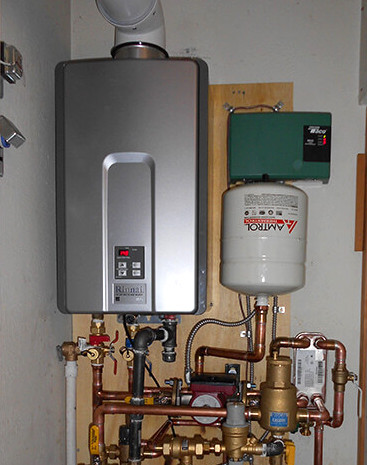 High Efficiency Tankless Water Heaters
In addition to traditional tank type models, our team also has a high level of expertise installing and servicing tankless water heaters. We represent a highly respected brand that manufactures durable, reliable, high efficiency tankless models that have a great track record in the Denver-Boulder area. Our plumbing team would be glad to help you determine if one of these compact, on-demand water heaters are a good fit for you and your home.
Indirect-Fired Water Heaters and More!
Does your home have a hot water central heating system powered by a boiler? If so, you may want to learn more about a high performance indirect-fired water heater that can be connected to your system as its own zone. Indirect-fired water heaters have an internal heat exchanger and use heat from the boiler as the source for heating your water. These high quality tanks feature very low heat loss and high recovery rates, and come with strong warranties. Our water heater line also includes power venting and sidewall venting specialty tank systems, as well as electric point-of-use and whole-house hot water boosters. In addition, we're experienced with the latest in hybrid electric heat pump water heaters, which are carving out a new niche in the water heater market. For all of your hot water needs for your Englewood home, you can rely on our team to match you the right product.
Our customers trust us to:

Respect them and their homes
Arrive on schedule in a clean, well-marked fleet vehicle for all appointments
Perform our work efficiently and complete it promptly
Clean up our workspace thoroughly when we're done
Fully explain all work that was done and answer all questions they might have
Make sure they are completely satisfied with our work
Conduct ourselves in a friendly, professional manner in all of our dealings with them
We keep a readily accessible inventory of the most common tank type water heaters in our local warehouse. Our team also maintains great availability of many other models through our local and regional network of established suppliers.
Reliable Water Heater Repairs in Englewood
When your hot water heater fails, it's almost always a frustrating experience, and many regular household routines are disrupted. That's why we always strive to provide fast, effective water heater service to homeowners in Englewood and surrounding communities. Our trusted plumbers and technicians will show up quickly to diagnose whatever problem your water heater is experiencing and provide you with an expert, low-pressure recommendation for service. If a repair makes sense to consider, we'll give you an honest price quote to fix your system.
Depending on the type of repair needed, as well as the age and shape your current water heater is in, sometimes replacement is the most prudent course of action. We can help you compare your options for replacement to the cost for repairs, and help you evaluate what makes the most sense for you. We'll supply you with ample amounts of information and carefully answer all your questions, all in a friendly, low-pressure manner, so you can make a decision you'll be comfortable and satisfied with for years to come.
High Efficiency Water Heater Rebates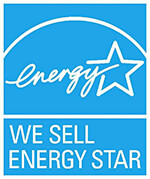 Certain models of high efficiency water heaters that we install may qualify you for rebates! Visit our Rebates & Incentives page or speak with a member of our knowledgeable staff for details and a completely free, no obligation installation quote. Count on us to help you save money on your next water heater.
Your Water Heater Team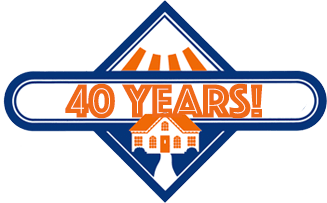 From repairs to priority replacements and upgrades, you can rely on our entire team at Save Home Heat Company to provide you with top level service and products, and to always try to exceed your expectations. With over four decades of trusted service, you can be confident calling our team for all of your water heater installation and service needs in Englewood.
Learn more about our water heater services and products by contacting our team today!
Our Complete Line of Quality Home Services Includes:
AC Repair, Maintenance, and Installation – Ductless & Central Systems
Furnace, Boiler, and Heat Pump Repair, Maintenance, and Installations
Hot Water Baseboard and Radiant Floor Heating System Service & Installation
Household Plumbing Services
Complete Residential Electrical Services
Central Indoor Air Quality (IAQ) Products
Water Heater Repairs & Installation – Standard, High Recovery, Tankless, and more