Trusted Water Heater Service in Highlands Ranch
With over 40 years providing reliable, expert service, you can count on Save Home Heat Company for high quality water heater service in Highlands Ranch, CO. Our plumbers and technicians have extensive experience performing a wide variety of water heater repairs, replacement and upgrades, and our team appreciates the opportunity to help you with all your home hot water needs.
We're very familiar with many different makes and models of standard, high efficiency, and special-application residential water heaters, and this experience gives us the expertise needed to provide you with reliable, professional recommendations you can trust. We provide all of our customers with ample amounts of information and will patiently answer all your questions in a friendly, low-pressure manner so that you make repair and purchasing decisions that you'll feel good about now and in the future.
Our customers respect us for:
Our commitment to fully educating them on our findings and recommendations, and patiently answering all of their questions, so they can make informed decisions
Maintaining an A+ rating with the BBB, Google, and many others
Having highly skilled, courteous technicians and plumbers
Providing high quality, manufacturer-approved repair parts and a broad range of quality equipment
Offering system replacement and upgrade options in a low-pressure, informative manner
Communicating clearly and providing complete documentation of all major products installed and services performed
Striving at all times to be highly responsive to our customers
Following up after work is completed, to make sure our customers are 100% satisfied
Dependable Highlands Ranch Water Heater Installation
We assist homeowners looking to replace or upgrade water heaters in finding the right model to meet a variety of applications and home hot water needs. Our product line includes a wide range of product designs, sizes, efficiencies, and recovery ratings. Certain high efficiency water heaters we install have UEF (Uniform Energy Factor) ratings that qualify for utility company rebates in Highlands Ranch and surrounding Denver-Boulder communities.
During the replacement process, we will carefully remove your old water heater and properly dispose of it through our company recycling program. We take great care to minimize the impact of our all work we do in your home, and water heater replacements are no different. When installing a new water heater in your home, you can rely on our team to pay great attention to detail and to strictly follow all local code and manufacturer requirements.
High Performance Gas & Electric Tank Water Heaters
Our product line of tank type water heaters includes a broad range of sizes, designs, efficiencies, and recovery ratings. We install natural gas, propane, and electric models, and will help you choose the right model to fit your unique situation. The high quality water heaters that we install offer a number of enhanced features and upgrade options that your local big box store may not have available.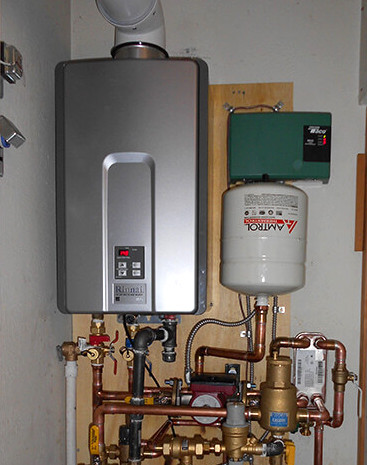 High Efficiency Tankless Water Heaters
Our team is also highly proficient in the installation and service of high efficiency tankless water heaters. We represent established, quality tankless heaters that have a strong track record and are well supported in our market. We can help you weigh the benefits and advantages of purchasing a tankless unit, and provide all the information you need to determine if these compact, high performance water heaters are the right hot water solution for you and your home.
Indirect-Fired Water Heaters and More!
For homes that have a boiler powering a central hot water heating system, an indirect-fired water heater can be connected to the system as a separate zone, providing high efficiency hot water, great recovery rates and abundant hot water. These systems get their heat from the boiler, don't have a flue stack, store heat very efficiently, and are backed by very strong warranties. Other hot water products featured in our broad line include sidewall and power venting tank type water heaters, electric point-of-use and whole-home hot water boosters, and hybrid electric heat pump water heaters that are quickly carving a niche in the residential market.
Our customers trust us to:

Respect them and their homes
Arrive on schedule in a clean, well-marked fleet vehicle for all appointments
Perform our work efficiently and complete it promptly
Clean up our workspace thoroughly when we're done
Fully explain all work that was done and answer all questions they might have
Make sure they are completely satisfied with our work
Conduct ourselves in a friendly, professional manner in all of our dealings with them
Our team maintains stock of many of the most common tank type water heaters in our local warehouse, and many other models are readily available thru our established network of local and regional suppliers. This helps us minimize the downtime you experience if your water heater needs replacement.
Professional Water Heater Repair in Highlands Ranch
Not having hot water in your home often means a disruption of your daily routines. Cooking, cleaning, and bathing are all affected, and our team fully understands the level of priority you place on getting hot water back up and running asap. When you call our expert plumbing and heating team, you can rest assured we'll do everything in our power to show up quickly and prepared to accurately diagnose your hot water problem. In cases where a repair makes sense to consider, we'll provide you with a firm quote to fully complete repairs, and we won't proceed without reviewing the work with you and obtaining your approval to proceed. We take the time to explain our findings and answer all your questions in an informative, friendly manner.
Depending on the nature of the repair needed, and the age and condition of the heater, it may make sense to consider a replacement. You can trust our many years of experience, and our strong commitment to honesty and customer satisfaction as you compare repair costs and future expectations, versus replacement options. We provide our customers with transparent, low-pressure, professional advice and recommendations, and ample amounts of information – always given with your best interests in mind, so that you can make a decision on how to proceed that you feel good about. No sales hype or quotas. The focus is firmly on your complete satisfaction, now and in the years to come.
Water Heater Rebates Available!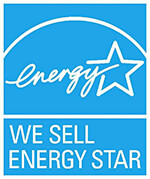 Valuable rebates may apply for some of the high efficiency water heaters that we install in Highlands Ranch. Feel free to check out our Rebates & Incentives page or speak with one of our friendly comfort advisors for current information. We work hard to help you save as much as possible on your investment, and also provide free installation quotes for new water heaters!
Your Highlands Ranch Water Heater Team
From our highly responsive water heater repair services to professional, skilled installations and replacements, our plumbing team at Save Home Heat Company strives to exceed your expectations in all that we do. You can rest assured that your water heater job will be treated as a high priority, and that the expertise and experience we bring to our work will make a positive difference for you and your Highlands Ranch home.
For more information or to receive a free, low-pressure water heater installation quote, contact our team today.
Our Complete Line of Quality Home Services Includes:
AC Repair, Maintenance, and Installation – Ductless & Central Systems
Furnace, Boiler, and Heat Pump Repair, Maintenance, and Installations
Hot Water Baseboard and Radiant Floor Heating System Service & Installation
Household Plumbing Services
Complete Residential Electrical Services
Central Indoor Air Quality (IAQ) Products
Water Heater Repairs & Installation – Standard, High Recovery, Tankless, and more