Littleton's Experts in Water Heaters

When you need someone who is highly skilled and experienced with water heaters in Littleton, CO, turn to the technicians and plumbers at Save Home Heat Company. We provide expert residential water heater service for homeowners in Littleton and surrounding Arapahoe county communities, and have been proudly serving the Denver-Boulder metro area since 1979.
Some of the notable recognition of our strong commitment to customer satisfaction and high-quality service can be found in our long-term A+ rating and Long Term Accreditation Award with the Denver-Boulder Better Business Bureau, and numerous Super Service Awards from Angie's List, among others.
Our team is known for:
Being experts in residential hot water applications
Taking the time to fully educate our customers so they can make informed decisions
Providing advice and estimates in a friendly, no-pressure fashion
Offering 24/7 emergency service for heating, cooling, and hot water problems
Having highly skilled techs who are equipped with the latest diagnostic tools and training
Following up with our customers after work is complete, to make sure they are 100% satisfied
Our staff is very experienced installing, repairing and servicing a wide variety of residential hot water products, including standard, high efficiency, and high-recovery tank water heaters. Please note that our product line includes many models, features, and ratings that cannot be found at the local big box store.
We also specialize in high-efficiency tank-less water heaters, as well as indirect-fired, high-performance tanks designed for use with hot water boiler systems.
Installing and Replacing Water Heaters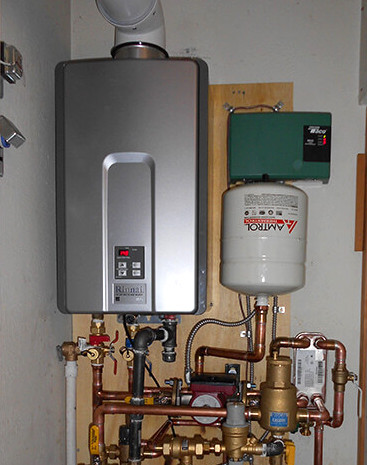 Our crew at Save Home Heat Company will make the entire installation process go smoothly. If we are replacing an existing tank, as if often the case, we'll carefully and cleanly remove your old unit, take with us when we leave, and it will be disposed of through our in-house recycling program. Your new tank will be professionally and meticulously installed, and we'll thorough check our work before calling the job 'done.'
Our customers trust us to:
Work cleanly and efficiently
Respect their homes and their property
Provide high quality products from trusted manufacturers
Leave our workspace cleaner than we found it
Once our work is completed, we'll walk you through your new system and make sure that you understand how to adjust your new heater's temperature setting. We'll take the time to gladly answer any and all of your questions.
Repairing All Makes and Models
Save Home Heat Company can expertly diagnose and repair virtually any type of residential water heater in Littleton. Our team is highly experienced, and we understand that there are times when a repair may be possible, but it may not be in the customer's best interests. For example, we don't recommend spending hundreds of dollars fixing a tank that's over ten years old, nearing the end of its serviceable life. On the other hand, if a thermocouple or another relatively inexpensive repair is all that's needed, the last thing we'd ever think of doing is telling you that you need a new tank. Our company philosophy is heavily rooted in clear communication, honesty, and always looking our for our customers' best interests.
All repairs that we perform are carried out in full accordance with manufacturer requirements, as well as those of all local codes.
Give us a call today at Save Home Heat Company for any of your home hot water needs in your Littleton home. Please keep us in mind for your heating, cooling, plumbing, and electrical needs, as well. We'll do our very best to earn your trust and your future business every time you give us the opportunity to serve you.