Dependable Water Heater Repair and Replacement in Superior
For more than four decades, our team at Save Home Heat Company has been providing homeowners in Superior, CO and surrounding communities with highly skilled, reliable, and trustworthy home services, including water heater repair, installation, and replacement. Our extensive experience and expertise with residential hot water systems make our team a great choice to take care of all of your home hot water needs.
We're very familiar with many different standard, high efficiency, and specialty water heater products, and have the knowledge, skills, and resources to assist homeowners in finding the right hot water solutions to best match their unique needs and homes.
Our customers respect us for:
Our commitment to fully educating them on our findings and recommendations, and answering any questions, so they can make informed decisions
Maintaining an A+ rating with the BBB, Google, and many others
Having highly skilled, courteous technicians and plumbers
Providing high quality, manufacturer-approved repair parts and a broad range of quality equipment
Offering system replacement and upgrade options in a low-pressure, informative manner
Communicating clearly and providing complete documentation of all major products installed and services performed
Striving to be highly responsive to our customers at all times
Following up after work is completed, to make sure our customers are 100% satisfied
Experienced Water Heater Installation in Superior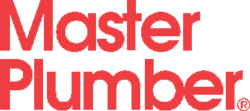 Our team carries a product line with enough variety to suit many different applications and hot water needs. If you're considering an upgrade or need to replace your current water heater, our team is confident we can help you find a system that is the right fit for you and your home. Some of the high efficiency models we install have UEF (Uniform Energy Factor) ratings that may quality for rebates.
In the event that your existing hot water heater needs to be replaced, you can trust our team to remove the old system without any mess or damage to your home. We take great care in removing the old tank and installing the new one, and our team properly disposes of all replaced equipment through our in-house recycling program. As in everything we do, we strictly adhere to all local code and manufacturer requirements when performing water heater installations and repairs.
Quality Gas & Electric Tank Water Heaters
We carry a broad line of high quality tank type water heaters that are available in a wide range of sizes, designs, efficiencies, and just as importantly, recovery ratings. Our team installs natural gas, electric, and propane models to fit the needs of our many customers in the Denver-Boulder area. In many cases, we offer products and enhanced performance options that can't be found at local big box retailers.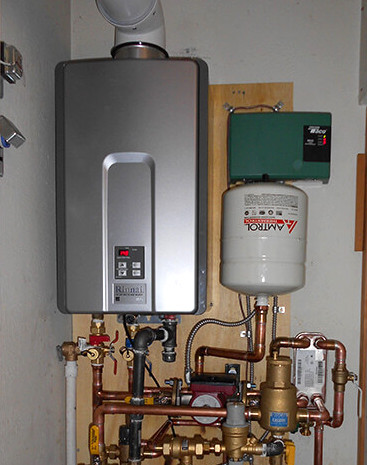 Compact, High Efficiency Tankless Water Heaters
In addition to tank type systems, we are also very experienced servicing and installing high efficiency tankless water heaters. These compact, reliable, highly efficient, on-demand water heaters are a great option for homeowners and homes where a tankless system is the right fit to meet the family's goals. Many units are large enough to suit a host of home hot water needs, and you can count on the experience and expertise of our plumbing team to properly size your tankless system and make sure our work is performed to the highest standards.
Indirect-Fired Water Heaters and More!
We also specialize in servicing and installing indirect-fired water heaters for use with central hot water heat boiler systems. Heated by the boiler, an indirect water heater affords high recovery rates, low heat loss, and typically come with superior warranties. In addition, our complete water heater line also includes power and sidewall-venting special application tank type water heaters, along with electric point-of-use and whole-house hot water boosters. Our team is also experienced installing and servicing with the relatively new hybrid electric heat pump water heaters that are carving a niche in the residential water heater market. For all of your hot water needs, you can trust our expert plumbing team at Save Home Heat Company to help you find the right solutions for your home.
Our customers trust us to:

Respect them and their homes
Arrive on schedule in a clean, well-marked fleet vehicle for all appointments
Perform our work efficiently and complete it promptly
Clean up our workspace thoroughly when we're done
Fully explain all work that was done and answer all questions they might have
Make sure they are completely satisfied with our work
Conduct ourselves in a friendly, professional manner in all of our dealings with them
To maintain good availability and prompt turnaround times, we stock the most common tank models in our local warehouse. We have an established network of local and regional suppliers for excellent sourcing of many other water heater models. This enables us to restore your hot water as quickly as possible, and you can count on our team to supply you with only high quality products from reputable manufacturers.
Expert Water Heaters Repairs in Superior
If your hot water heater has stopped working, we fully understand that you need fast, reliable service. We work diligently to respond as quickly as possible to all water heater repair requests in Superior and surrounding communities. Our highly skilled plumbers and technicians will accurately diagnose the problem and provide you with honest, informed, professional recommendations. If a repair is being considered, we'll provide a firm price quote for the suggested repair, and not proceed until we've reviewed our findings with you and answered all your questions. We will not apply pressure on you to make a quick, uninformed decision. Once you've given your approval, we'll proceed promptly to complete repairs.
Should the age and condition of your system or the type of repair needed make a replacement an option worth considering, we will provide you with a low-pressure comparison of replacement options versus the cost of repair. Our goal is to enable you to make an informed decision that is best suited for you and your home – without any frustrating sales hype or agendas other than providing you with honest, professional service, and looking out for your best interests.

Hot Water Recirculation Systems
Every homeowner is familiar with the annoying wait for hot water. You turn on the shower or faucet and do something else for a bit while you wait for the hot water to arrive. What if we told you it didn't have to be that way? Instead of wasting your time, money, and water, you could be using one of our hot water recirculation systems. Ask our plumbing team today for more information and a free installation quote!
Water Leak Detection Systems
You can also count on our expert plumbing team to install whole-house water leak detection systems. These systems feature a master control, remote sensors, and an inline whole-house water shutoff valve. The water leak detection systems we represent come equipped with WiFi capabilities and provide homeowners with informative data around your water usage.
Valuable Water Heater Rebates!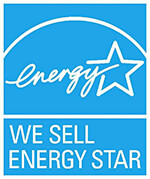 Some of the high efficiency water heaters we install may qualify for valuable rebates in Superior. We invite you to visit our Rebates & Incentives page to find current information. You can also feel free to contact one of our comfort advisors to give you more details and for a free, no obligation installation price quote. You can count on Save Home Heat Company to help you obtain the greatest savings when making an investment in a new, high efficiency water heater.
High Quality Water Heater Service in Superior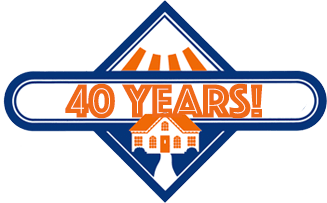 You can rely on our team at Save Home Heat Company for highly experienced, customer-focused water heater service, installations, and replacements. Whether you're in need of prompt, professional repair or replacement, or if you're considering upgrading your existing water heater, we will make every effort to exceed your expectations, and provide you with the best products, service, and experience possible.
If you'd like to learn more or request a free water heater replacement quote for your home in Superior, call our friendly staff today!
Our Complete Line of Quality Home Services Includes:

AC Repair, Maintenance, and Installation – Ductless & Central Systems
Furnace, Boiler, and Heat Pump Repair, Maintenance, and Installations
Hot Water Baseboard and Radiant Floor Heating System Service & Installation
Household Plumbing Services
Complete Residential Electrical Services
Central Indoor Air Quality (IAQ) Products
Water Heater Repairs & Installation – Standard, High Recovery, Tankless, and more