Expertly Servicing Water Heaters in Westminster
At Save Home Heat Company, we're highly experienced servicing and installing many different types of water heaters in Westminster, CO, and surrounding areas. We've been proudly serving the home comfort needs of the Westminster community for 40 years.
Our team will provide you with personalized service, backed by our extensive resources, experience, and expertise. You can count on our assessments and recommendations, and our commitment to making sure your repair or installation goes smoothly and correctly.


We have a strong reputation for:

Being home comfort specialists
Providing high quality products and service
Making recommendations and providing options that are in our customers' best interests
Being experts in high efficiency designs and applications
Offering a broad product line to meet a wide variety of needs
Making sure our customers are 100% satisfied with our work
Installing and Replacing Westminster Water Heaters
When it's time for a new water heater for your home in Westminster, Save Home Heat Company is the company you should call for complete service and knowledge of water heater options that will be the best fit for your needs and your home.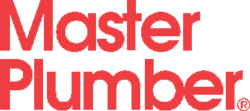 We are highly experienced replacing standard tank-type water heaters, and our broad selection of basic, high efficiency, and high-recovery models and their optional features cannot be found at the local big box stores. We are also experts installing high-efficiency tankless water heaters, along with high performance, indirect-fired tanks that are great matches for hot water heat boiler systems.
Our technicians and plumbers will make sure that your entire installation process goes smoothly. If we'll be disconnecting your old heater, we'll take care of cleanly removing it from your home, and disposing it properly through our company recycling program.
Quality Gas & Electric Tank Water Heaters
We carry a line of high performance traditional tank type water heaters in a wide range of sizes, efficiencies, and recovery ratings. The dependable tank type water heaters we install are available in propane, natural gas, and electric varieties, and come with features and enhancements not available at your local retailers.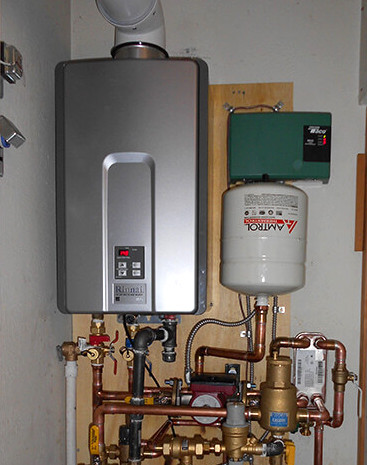 High Efficiency Tankless Water Heaters
Our Save Home Heat Company plumbing team also holds expertise installing and servicing high efficiency, reliable, and compact tankless water heaters. We represent a brand that is strongly supported in our market. Count on our plumbers and technicians to help you determine if these products are the right fit for you and your home.


Indirect-Fired Water Heaters and More!
In homes with a hot water central heating system powered by a boiler, we also specialize in indirect-fired water heater models that can be connected as an independent, prioritized zone. Using the heat from a boiler, indirect water heaters afford great recovery rates, high efficiency, and are backed by strong warranties from established and reputable manufacturers. For more specific applications, our product line also features electric point-of-use and whole-home hot water boosters as well as sidewall and power venting tank type water heaters. With an extensive variety of water heaters and the expertise to provide dependable solutions, you can trust our team to pair you with the perfect systems for your unique hot water situation.
Our skilled, courteous plumbers and technicians will:

Arrive punctually to your appointment in a clean, well-marked company fleet vehicle
Conduct him or herself in a friendly, courteous manner
Communicate clearly about work to be done, and at all times during the visit
Leave our work area completely clean
Provide clear documentation of all work performed, and all new products installed
Walk you through our work and patiently answer any questions you have
You can trust Save Home Heat Company to provide high-quality products and parts from respected manufacturers, that will stand the test of time. You can also trust us to be highly responsive to your needs.
Repairing Water Heaters in Westminster

We want to take the stress out of getting your water heater repaired. We offer 24/7 availability for issues that need to be resolved immediately. Our technicians stay current with new technologies and can efficiently find the cause of any issue that your system is having.
If an existing water heater has plenty of serviceable life remaining, and repair costs are deemed not too expensive, our team will be prepared to perform an efficient, accurate repair on your unit, once you give us the go-ahead. If age or condition of the unit is not ideal, or if major, costly repairs are needed to keep your current water going, we'll be prepared to have the at-times difficult conversation about considering replacement instead of repairs.

Hot Water Recirculation Systems
It's something everyone has dealt with before…you turn on a faucet or the shower and sit there waiting for the water to heat up. That waiting isn't just wasting your time, it's wasting money and water, too! Why wait? Ask our reputable plumbing team for more information about our hot water recirculation systems and for a free installation quote.
Water Leak Detection Systems
Did you know our plumbing department also installs whole-house water leak detection systems? These systems feature remote sensors, a master control, and an inline whole-house water shutoff valve. The quality water leak detection systems we represent also have WiFi capabilities and provide the user with information data around their water usage.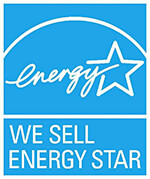 Valuable Water Heater Rebates!
The installation of specific high efficiency water heaters may qualify for valuable rebates in your area! To learn more, visit our Rebates & Incentives page or speak with one of our friendly comfort advisors for details and a complimentary installation quote.
Trusted Water Heater Service in Westminster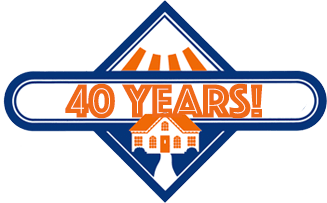 Our goal is to help you make an informed decision that you feel comfortable with, and that makes the most sense for you and your unique situation. Our professional assessments and recommendations will always be presented in a low-pressure, courteous manner.
To learn more about how we can help you with your water heater in Westminster, give Save Home Heat Company a call today. Please keep our dedicated team in mind for any of your home heating, cooling, plumbing, or electrical projects.
Our Complete Line of Quality Home Services Includes:

AC Repair, Maintenance, and Installation – Ductless & Central Systems
Furnace, Boiler, and Heat Pump Repair, Maintenance, and Installations
Hot Water Baseboard and Radiant Floor Heating System Service & Installation
Household Plumbing Services
Complete Residential Electrical Services
Central Indoor Air Quality (IAQ) Products
Water Heater Repairs & Installation – Standard, High Recovery, Tankless, and more