Air Handlers and Their Role in Home Comfort
August 28, 2023
This blog post is about a piece of HVAC equipment that's been around a long time and these days is becoming more common when our team at Save Home Heat Company installs a new home comfort system in an existing home – in particular, in homes heated by a hot water boiler, as well as those served by a mini-split heat pump; the list goes on. Our focus here is on a versatile piece of equipment known as an air handler.
Air handlers can play a valuable role in heating and cooling both existing and new homes, and certain models even have applications in commercial and industrial settings (not the focus of this discussion). Let's take a closer look at residential air handlers, what they are, their uses, and the different types that our skilled home comfort team installs for our customers in the Denver-Boulder metro area.
What Is an Air Handler?
An air handler is a piece of equipment that, on its most basic level, recirculates air in your home through a ducting system. Many people find it helpful to think of an air handler as appearing very similar to a furnace – except without the burners, the heat exchanger, the gas piping, and the flue pipe; basically, a housing with a fan and related controls. Phrased differently, an air handler is a heavy gauge, metal, painted enclosure that contains the main circulating fan and controls; an air filter is typically installed adjacent to it, on the return-air side of the unit, similar to a furnace. An air handler is connected to a ducting system whose size and complexity may vary. But it's not quite that simple: There are different types of air handlers, that serve specific purposes.
Designed for installation in an unfinished space or mechanical area, again, similar to a furnace, a residential air handler may also contain an additional component such as an evaporator coil to be used in an air conditioning or heat pump system, or a hot water heating coil for supplying heat from a boiler. In other cases – or in combination – an air handler may be employed to circulate air for a whole-home IAQ system.
Residential Air Handler Applications
The air handlers that our team at Save Home Heat installs for our customers in the Boulder-Denver metro area are most commonly used for: ducted heating and cooling systems powered by a heat pump; forced air heat provided by a central hot water boiler; and whole-home, ducted IAQ systems – and as we'll see, sometimes these are installed in combination. Let's dig a little deeper into each of these applications.
Ducted Heat Pump or AC-Only Systems
In this system design, the air handler recirculates household air in a forced air heating and/or cooling system that is powered by a central heat pump or a standard air conditioner, conditioning either an entire home or specific areas. When using a standard air conditioner, the system functions as an AC-only system, used solely for cooling. In either case, the air handler takes the place of a furnace in this arrangement, and the air filter is located adjacent to it, as usual. With a heat pump, year-round comfort is provided and the air handler is used during much of the year.
Forced Air Heat From a Boiler
In homes that are heated by a central hot water boiler, an air handler with a built-in heat exchange coil (think car radiator) may be employed as its own heating zone to provide forced air heat to a specific area – warm air heating powered by the boiler! This is often done as a complement to a system that also features baseboard heaters, in-floor heat, or radiators, and possibly even an indirect-fired domestic water heater.
Whole-Home IAQ Systems
This application incorporates indoor air quality products such as a high efficiency media or HEPA air filter, central air purifier, central steam humidifier, and a fresh air ventilator (we recommend energy recovery ventilators, ERVs, in our market). These air quality products can be installed in a dedicated, independent IAQ system, and are often incorporated in the above-mentioned systems, as well. One of the nice things about these products is that they often can easily be added to a system at a later date, helping homeowners to manage budgeting.
An Air Handler Conditioning All or Part of Your Home
Regardless of the specific application for an air handler, they can be used to heat and/or cool virtually any size home, or they can be scaled back (along with the ducting) to address specific priorities. Whether this is for both heating and cooling, heating or cooling only, or to improve the quality of the air you breathe in your home – or in combination – the right air handler could be just the solution that you're looking for.
Types and Designs of Common Air Handlers
Here's a quick review of the most common types of air handlers that our team at Save Home Heat installs for our residential customers:
Air handler with a built-in evaporator coil (fin-tube coil similar to what we've seen for many years with central AC systems) to be used in a heat pump or AC-only system. These are the most common types of air handlers that our team currently installs.
Air handler with a built-in, water-to-air heat exchanger (aka hot water coil) to be connected to a boiler to provide forced air heat.
Basic air handler with fan and related controls, used for simply recirculating air. The most common application is for independent, dedicated IAQ systems that are not designed to provide heating or cooling (typically in homes heated by a hot water boiler or served by a mini-split system)
Of course, when a new air handler is being considered, there must be an appropriate unfinished location in the home to house the new blower unit and also accommodate new ducting. Some homes lend themselves to this plan just fine, while others can be more challenging and may dictate a different approach.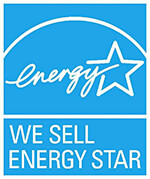 Modern, Quality Blower Options to Choose From
Regarding the types of air handlers available, similar to furnaces, there are a variety of options worth learning more about when designing a system to meet a homeowner's needs, and when deciding what type of air handler best suits your needs and is the best fit for your home.
Premium features available on some air handler models include:
Multi-speed or variable-speed blowers (variable-speed are the quietest, most electrically efficient blower option)
Insulated cabinet for quieter operation
Broad range of CFM (cubic feet/minute) fan ratings properly suited for small areas or even an entire home
Multi-position and low-profile models available to fit a variety of unfinished spaces, square footages, and duct sizes
High static pressure capability to help maintain fan performance under varying conditions
Wi-Fi connected, smart thermostat compatibility
Built-in, back-up electric heat
Compatibility with very high efficiency and standard efficiency heat pump and AC systems
Compatibility with mini-split systems, including hybrid, zoned/central mini-split heat pumps
Your Denver-Boulder Metro Area Heating & Cooling Experts
Our team at Save Home Heat Company is dedicated to helping you find home comfort solutions that you'll be pleased with for many years to come. Our goal in this post is not to sell more air handlers, but to make sure our readers are aware of their existence and their potential applications in your homes. For more information about air handlers, or to talk with an experienced comfort advisor about any of your home comfort needs in a highly informative, low-pressure manner, please reach out to our team today.
Please contact me to discuss my home's heating and cooling needs!