Why Are Ductless Mini-Split Heat Pumps So Popular?
October 22, 2021
In recent years, our team at Save Home Heat Company has noticed a growing trend with our ductless mini-split system customers choosing heat pumps over AC-only systems. In this blog, we'd like to present a quick run-thru of the main reasons for this shift in purchasing habits, one that we agree is a good move.
What Is a Ductless Mini-Split Heat Pump?
In short, a ductless mini-split heat pump is a ductless home comfort system that's designed to provide both air conditioning in the summer and heating in the winter. Like AC systems, heat pumps operate off electricity, and their operation is also based on the flow of refrigerant inside the closed system. Unlike AC-only systems, however, a heat pump provides comfort all year long.
What Is A Ductless Heat Pump's Relationship to Ductless AC?
In outward appearance – both the outdoor condensing unit and the indoor blower unit – there's virtually no perceptible difference between a ductless mini-split AC system and a ductless heat pump. The big difference is in their interior design and what heat pumps are capable of doing. In the case of a heat pump, the refrigerant in the system can flow in either direction, providing the system the ability to either cool or heat your home.
The Advantages of Ductless Mini-Split Heat Pumps
The obvious attraction of ductless mini-split heat pumps is that they function as both heating and cooling systems, affording year-round comfort. When considered as an option to AC-only ductless systems, or in tandem with an existing central comfort system, the advantages of ductless heat pumps really start to shine.
Zoned Home Comfort
Providing zoned heating and cooling in specific areas of a home is one of the great advantages of mini-split heat pumps. Whatever the time of year, a ductless heat pump affords you the ability to personalize your comfort level in whatever rooms are being served by a ductless system: Mini comfort zones within your home!
A Great Complement To Existing Central Heating & Cooling
Some central heating and cooling systems do a less than ideal job delivering heating and cooling to various levels and rooms within a home. A mini-split heat pump is a great complement to an existing central system that will fully solve comfort issues in those problem areas, no matter the time of year. In addition, a ductless heat pump allows you to save money by 'dialing back' temperatures in areas of your home that aren't currently being used. This allows you to focus your heating and cooling expenses on where they're needed most!
Environmentally Friendly & Efficient Year-Round Comfort
Because heat pumps are powered by electricity, they allow homeowners to reduce or eliminate their reliance on gas-fired heating products ie. reduce their direct consumption of fossil fuels. Whether as an alternative to vented pas wall heaters or supplementing a central system, ductless heat pumps offer our customers a 'greener,' electrically efficient heating option.
For air conditioning, ductless heat pumps provide extremely efficient cooling performance. Certain units, including some of our most popular models, have AC efficiency ratings as high as 30+ SEER. To put that into perspective, in order to qualify for an ENERGY STAR Most Efficient 2021 product label, an air source heat pump must have a cooling efficiency rating of 18 SEER or higher. Talk about exceeding ENERGY STAR requirements by a huge margin!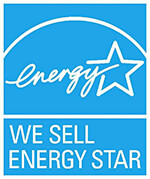 Very Quiet and Unobtrusive Heating & Cooling
Mini-split heat pump systems are very compact, both indoors and outside. The modern style indoor blower units are often installed up out of the way, high on an exterior wall, and require only a 3" hole in the wall for the refrigerant and electrical lines that connect out-of-sight to the back of the unit. The blower units feature a wide range of quiet fan speeds to suit many personal tastes.
The outdoor condensing units are generally half the size of what you see outside people's homes for central AC or heat pump systems, and operating sound levels outdoors are extremely quiet. Any time of year, both you and your neighbors will appreciate the very low outdoor decibel ratings of your ductless heat pump.
Increasing The Value of Your Home
A ductless mini-split heat pump is an investment in your home's comfort system will increase the value and appeal of your home. While realtors are often fond of quoting the realities of location-location-location, and rightfully so, our team at Save Home Heat would like to add that for the family that will be living in the home, comfort is king! Compared to window and thru-the-wall air conditioners, and direct-vent gas wall heaters, for example, ductless mini-split heat pumps bring a lot more to the table in the way of lasting, enhanced value of your home – along with improved comfort levels!
Is a Ductless Mini-Split Heat Pump Right for You?
The big takeaway on ductless mini-split heat pumps versus ductless AC is the year-round capabilities that these products provide. If you're familiar with the advantages of ductless AC, simply apply those benefits to the colder time of year, for heating. A zoned option to personalize your comfort and reduce the load on a central system, highly efficient, unobtrusive, environmentally friendly, a problem-solver for isolated heating or cooling issues, and even a value-added investment in your home. We think our readers will appreciate why ductless mini-split heat pumps are continuing to grow in popularity.

Very few homeowners' circumstances are identical. Our philosophy at Save Home Heat is strongly rooted in listening carefully to our customers, providing lots of information, and answering all questions fully and patiently – all in a low-pressure manner – so they can make well thought-out purchasing decisions they'll feel good about for many years to come.

Please contact me to provide more info., or to schedule a free install quote!

Tags: Cooling, Green Living, Heating