What Is The HSPF Rating for Heat Pumps?
August 2, 2021
While central and ductless mini-split air conditioners come with one primary efficiency rating, for cooling, heat pumps are assigned two separate sets of efficiency ratings: the SEER for cooling, and the HSPF rating for heating.
As a quick review, heat pumps function like an air conditioner in many ways, but with the bonus feature of being able to circulate refrigerant in the system in either direction. This means that a heat pump works both as an AC system in the summer, and also as a heater in the cold months. In this blog, we will be focusing on the heat pump HSPF efficiency rating.
(To learn more about SEER ratings, please visit our previous post on SEER ratings for central and ductless AC in our area.)
Defining the HSPF Efficiency Rating
HSPF stands for 'Heating Seasonal Performance Factor' and is an industry-wide accepted measure of the efficiency of air-source heat pumps. This includes both the central and ductless mini-split systems that our team at Save Home Heat installs and services.
The HSPF number represents the ratio of cooling produced (in British Thermal Units, aka. BTUs) for every kilowatt-hour (kWh) of electricity consumpted by the heat pump. The important takeaway is this: The higher the HSPF rating, the better the heating efficiency and the lower your electrical bills, compared to less efficient heat pump options.
Just like the SEER rating for AC systems, the HSPF takes into account the ebbs and flows in operating efficiency not only during the day, but also throughout the entire heating season. The HSPF rating is the most helpful rating for purchasers to use when comparing different brands and designs of heat pumps. Of course, factors such as track record, and support from both the manufacturer and your HVAC contractor are also critical factors when considering a purchase.
Central and Ductless Mini-Split Heat Pumps in Denver-Boulder
It's important to note that with our wide ranging climate in the Denver-Boulder area, central heat pumps are rarely capable of handling all the heating needs of a home over the course of the entire heating season. Fortunately, that's not a reason to rule out a central heat pump for your home. In a central system, a heat pump is frequently paired with a gas furnace in what's known as a dual fuel system, affording the benefits of both a heat pump and a furnace in a single heating system, along with a great central AC system to keep you cool in the summer.
In the case of ductless mini-split heat pumps, on the other hand, certain models are capable of providing reliable heating even when outdoor temperatures drop to -10 F and colder, and may not need a backup system such as a furnace or another type of heater. This is one of the reasons why our team at Save Home Heat are such big fans of the Mitsubishi brand.
Most Popular Heat Pump HSPF Ratings For Denver-Boulder Homeowners
As you weigh your options deciding if a heat pump is right for you, and which model and HSPF rating makes the most sense, we urge homeowners to learn as much as you can about heat pumps, take the time and do your research, and ask lots of questions. Gather the information you need to make an informed decision. Save Home Heat customers rely on our team to provide ample amounts of information and answer all their questions in a patient, low-pressure manner. Our comfort advisers often provide a variety of product options to choose from, with zero sales hype or agenda: always focused on our customers' best interests and their valuable input.
Central Heat Pump Ratings in Denver-Boulder
The majority of the Lennox brand central heat pumps that our team installs for homeowners in the Denver-Boulder area fall in the higher end of the efficiency range currently available, at approximately 10.0 HSPF. The more moderate central heat pumps that we install, which are becoming less popular with our customers, have ratings in the mid-7.0 HSPF range.
Denver-Boulder Ductless Mini-Split HSPF Ratings
Ductless mini-split heat pumps are currently more popular than central heat pumps with our customers, due in large part to the vast array of benefits afforded by ductless systems. After more than 25 years, Mitsubishi is still our ductless product line of choice at Save Home Heat, and their high quality heat pumps are more popular than ever.
The HSPF rating of the Mitsubishi ductless mini-split heat pumps that our team regularly installs range from an impressive 13.5 HSPF on top-end units, to the mid-7.0 HSPF range for more moderate systems. Regardless of the efficiency range, our customers appreciate the effective, zoned, year-round comfort provided by these premium mini-split heat pumps.
ENERGY STAR Certification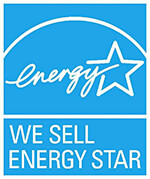 The majority of both the central and the ductless mini-split heat pumps that our team installs are ENERGY STAR certified, and many qualify for ENERGY STAR Most Efficient labeling, as well. In order to qualify for base level ENERGY STAR certification, air-source heat pumps must have an HSPF rating of 8.5 or higher (plus 15.0 SEER for cooling). 'ENERGY STAR Most Efficient 2021' criteria, currently the most efficient certification awarded by this well established Environmental Protection Agency-coordinated program, requires an HSPF of at least 9.6, plus 18.0 SEER for air conditioning.
Time to back off from all the numbers and capital letters! In the Denver-Boulder area, please give us a call if you'd like to learn more.
Find Your Ideal Heat Pump Today!
Save Home Heat Company is prepared to help homeowners in the Denver-Boulder area learn more about heat pumps and other home comfort options that are the right fit for you and your home. All in an informative, low-pressure, professional, respectful manner. Please reach out to our team today for expert advice and recommendations that you'll appreciate for years to come.

Please contact me to schedule a free, no obligation, heat pump install quote!

Tags: Cooling, Heating